Looking for a fresh way to stay on your healthy path while getting those extra collagen peptides that keep you looking and feeling young? We've pulled together some of our favorite collagen recipes to give you a breakfast treat that will provide you with the energy you need to get through the morning, a midday snack that will satisfy you, and an evening delight you'll look forward to all day.
Putting collagen in smoothies is nothing new. Like many other supplements, they can easily be incorporated into your favorite concoction, and you'll never even know it's there—except you will notice that it's working. Give one of these recipes a try, and see for yourself.
Conscious Recipes for Collagen Support
Peach Berry Smoothie Recipe
The great thing about this recipe is that it's fresh tasting and more than a little bit exciting. It's a great way to start your morning.
Ingredients
1 ½ cups frozen peaches (reserve a couple if using toppings)
¾ cups frozen blueberries
½ avocado
⅓ cup almond milk
1 scoop Live Conscious® Collagen Peptides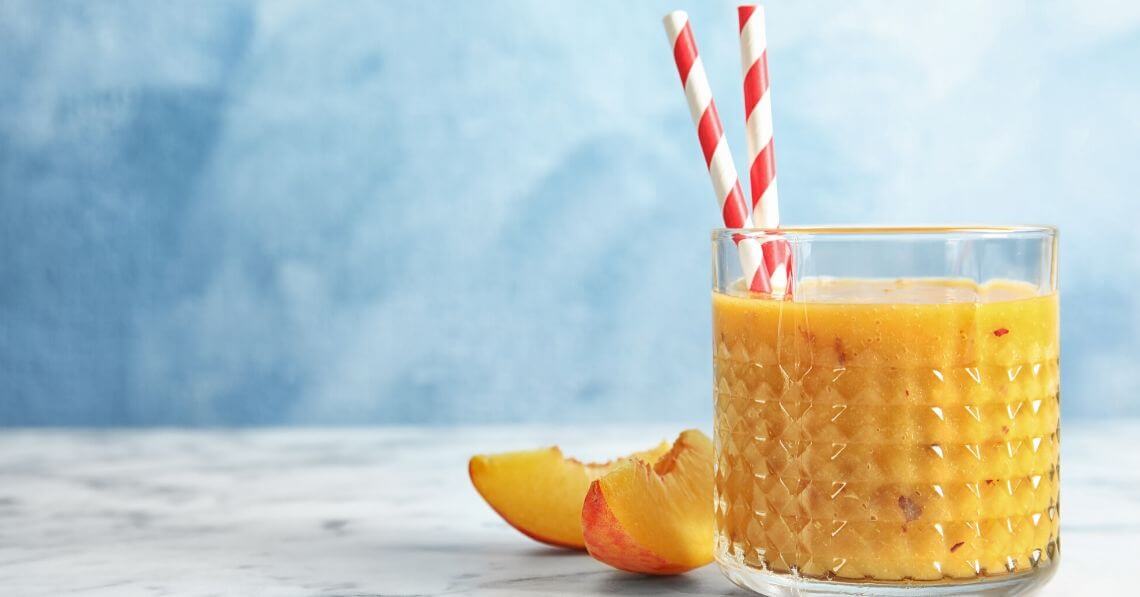 Instructions
Blend all ingredients to desired consistency and sprinkle with chia seeds, hemp seeds, coconut flakes, and peach slices to serve as a smoothie bowl.
If you were looking for collagen shake recipes, this one does the trick. Simply add an extra splash of almond milk, skip the toppings, and you've got the grab-and-go convenience you want in a smoothie shake.
While the peach and blueberry flavors are such a delightfully sweet way to start your day, there's a lot more going on behind the scenes. Peaches contain lutein and zeaxanthin, which are powerful antioxidants that protect the body from occasional oxidative stress. There's also a nice amount of potassium to help regulate other bodily functions, and this is a good way to get potassium if you're not that fond of bananas.
Blueberries are rich in anthocyanin, a flavonoid packed with antioxidant power. This gives them the ability to fight everyday oxidative stress, whic, if left unchecked, can lead to visible signs of aging.
Berry Ginger Smoothie Recipe
Of all the collagen peptides recipes, this is one of our favorites because it's so surprising. The inclusion of cauliflower in a smoothie is not very common, and in fact, most people would never think of adding it, but we love it in this recipe for many reasons–and they're all related to your health.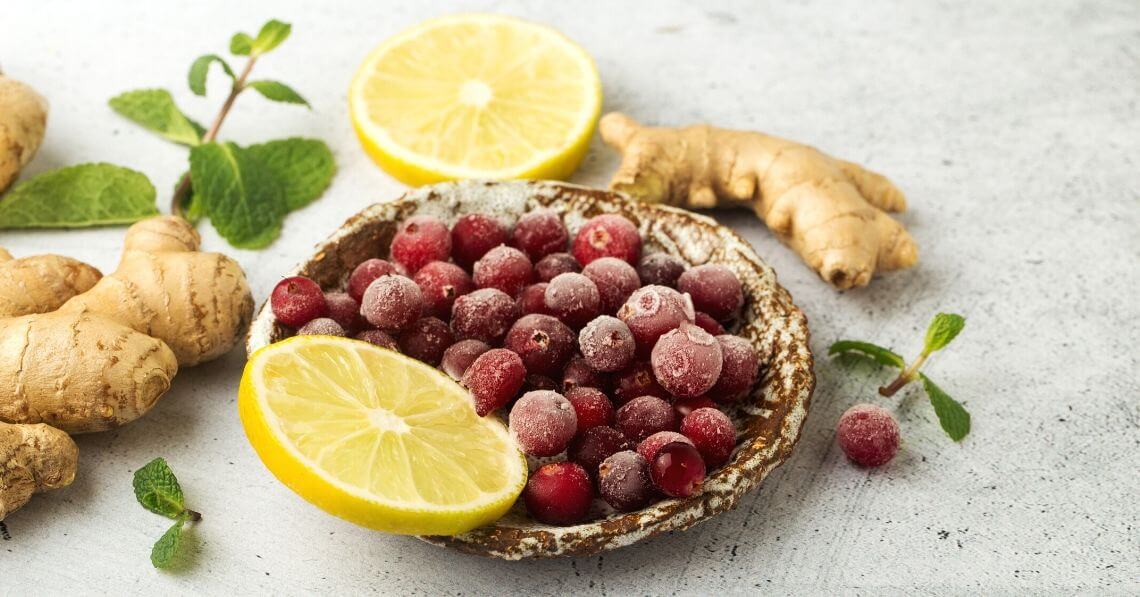 Cauliflower is a favorite because it's so good for your body. It's got antioxidants and phytonutrients that protect you against cancer. Cauliflower's fiber helps you feel full and digest better, and the choline boosts your memory and is essential for learning. But let's face it, not everyone likes eating cauliflower, so if you can "sneak" it into something and not even notice that it's there, it is easier to reap its rewards.
Ingredients
1 cup frozen cauliflower, steam before freezing
½ frozen banana
½ cup assorted berries
1 tablespoon almond butter
1" fresh ginger root
⅓ cup nut milk
1 scoop Live Conscious® Collagen Peptides
Instructions
Put all of your ingredients into a food processor or blender and pulse until smooth. If you don't reach the consistency you want, adding a little more milk can thin the smoothie. If you're looking for a thicker consistency, start with only half of the milk, then add a little at a time until you get the right thickness.
Chocolate Collagen Peptides Smoothie Bowl Recipe
After dinner, when you want to relax with a little chocolate treat and reward yourself for a hard day, there's nothing like this delicious collagen smoothie. The fact that it tastes like chocolate is just an added bonus, and don't forget that chocolate has its rewards.
Ingredients
1 frozen banana
1 cup milk of your choice
1 tablespoon chia seeds
½ tablespoon nut or seed butter of your choice
1 tablespoon cacao powder
1 teaspoon cinnamon
1 scoop Live Conscious® Collagen Peptides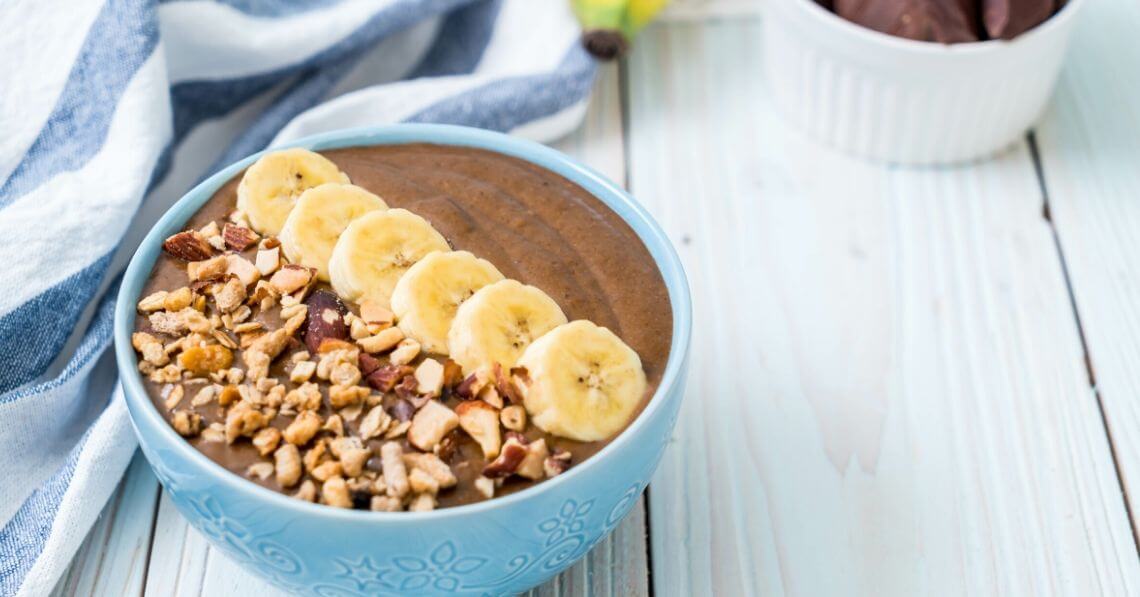 Directions
If you've never done this before and you're wondering how to make a smoothie bowl, it couldn't be easier. Simply add all of your ingredients together in a blender and pulse until it's the desired consistency. The thickness of soft-serve ice cream is usually best. Pour into a bowl and sprinkle with your favorite toppings.
Topping options: nuts, berries, coconut flakes, hemp seeds, chia seeds, sliced or dried fruits, pumpkin seeds, cacao nibs, etc.
This recipe not only gives you an easy way to incorporate collagen into your daily routine, but it's also packed with antioxidants and minerals that support whole-body wellness. In addition, collagen is a clean protein, meaning it doesn't have any unnecessary additives or sweeteners, so it keep you feeling fuller longer like other proteins without loading you up a lot of calories.
Waking Up To Wellness
While these delicious collagen smoothie recipes are filled with nutrients that help your body get its daily requirements, it's really the collagen that makes them so special.
To put it simply, collagen is a family of proteins found in your body. In fact, they're so prevalent in your body that they account for roughly a third of all the protein you have. There are 28 different types of collagen, and they can be found in your skin, tendons, internal organs, and cartilage. You also have collagen in your hair and the surface of your cells. It's everywhere.
Your body makes its own collagen by breaking down the proteins you eat. If you're young and have a well-balanced diet, you're probably getting and creating all of the collagen your body needs. As you age, however, your body loses its ability to produce collagen. Add to that any diets lacking nutrients, excessive sun exposure, and smoking, and you've sped up the aging process.
By adding collagen peptide supplements, you can help replenish your supplies. Adding collagen to healthy smoothies is a popular choice because it's an easier way to take your supplements and provides a number of nutrients you need to live your best life.