Make his day with something he really wants this year. Skip the tie; he's probably got enough.
Dads aren't always easy to shop for. Sometimes it's hard to know what they are thinking, let alone what they want for a gift. Some dads are easy-going, low-maintenance types. Others might love having the newest high-tech gadgets, but maybe they seem to have "everything" already. No matter what kind of fatherly type you have in your life, a gift that says "I love you" by bringing them long-lasting health and wellness might be just the thing. Any dad could use a bit more healthfulness, more energy, more zest for life, right?
Beyond Greens®
This is our number one choice for dads this year. It's amazing how many men fall in love with Beyond Greens®, but it's not really that hard to see why. Mystical mushrooms, reishi, and lion's mane help to promote feelings of calm while encouraging productivity and focus. Energizing Rhodiola, cordyceps, and matcha brings an uplifting quality, while chlorella provides an abundance of nutrients and helps the body with everyday detoxification. Cordyceps is also a go-to supplement for athletes, so it's a great addition to a workout routine or to support the body with other kinds of physical activity.
With a plethora of good-for-you ingredients, this blend does it all. Supporting gut health, immune health, energy levels, and normal detoxification processes, Beyond Greens® really does take you beyond! Beyond the everyday, to the transcendent realms of health and vitality.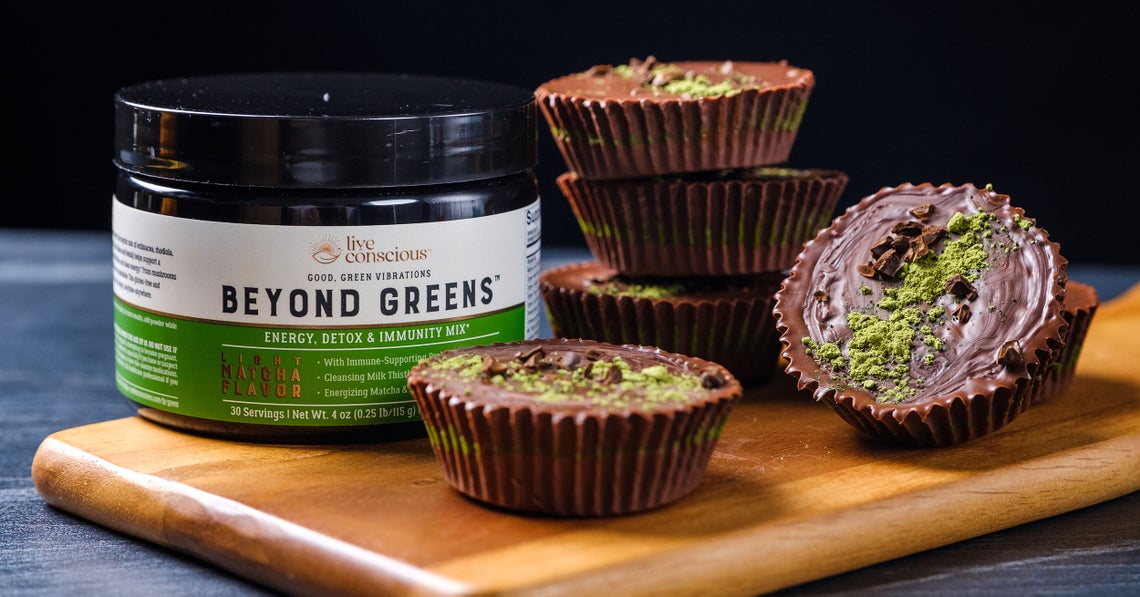 ZenWell®
Ashwagandha is showing up in the world like never before, and for a good reason. If there ever was an herb that perfectly matched the needs of our modern day lives, this is it! Balancing our busy lifestyles by reducing ongoing daily stress and promoting rest and relaxation, ashwagandha is such a good foundation to help us meet the expectations life brings. Ashwagandha also has specific benefits for men and is a premier herb of choice for many who seek to maintain stamina, endurance, athletic performance, and hormonal support. Along with organic ashwagandha, ZenWell® has L-theanine, which is an amino acid that is converted into compounds that promote happy and calm neurotransmitters to be released, resulting in a relaxed and focused state of mind.
Live Conscious® Organic Protein
Whether your dad (or husband or partner) is mostly a carnivore or more of a plant-based type, our protein blends are sure to please. A fully balanced spectrum of amino acids in these tasty blends will keep fathers everywhere fueled for whatever their day may demand. Whether they are busy making that career explode with success, figuring out how to be a new parent, or happily retired, a quick and easy protein source they can feel good about is essential. Whether the dad in your life is a Vanilla kind of guy or a Chocolate lover, we've got it covered!
Other Conscious Father's Day Gift Ideas
For the Handyman Dad
Offer to help him with a project or pick up stuff he needs at the hardware store. Or, get him something personalized, like a toolbag/toolbox with his name on it, or get his name engraved on his favorite hammer.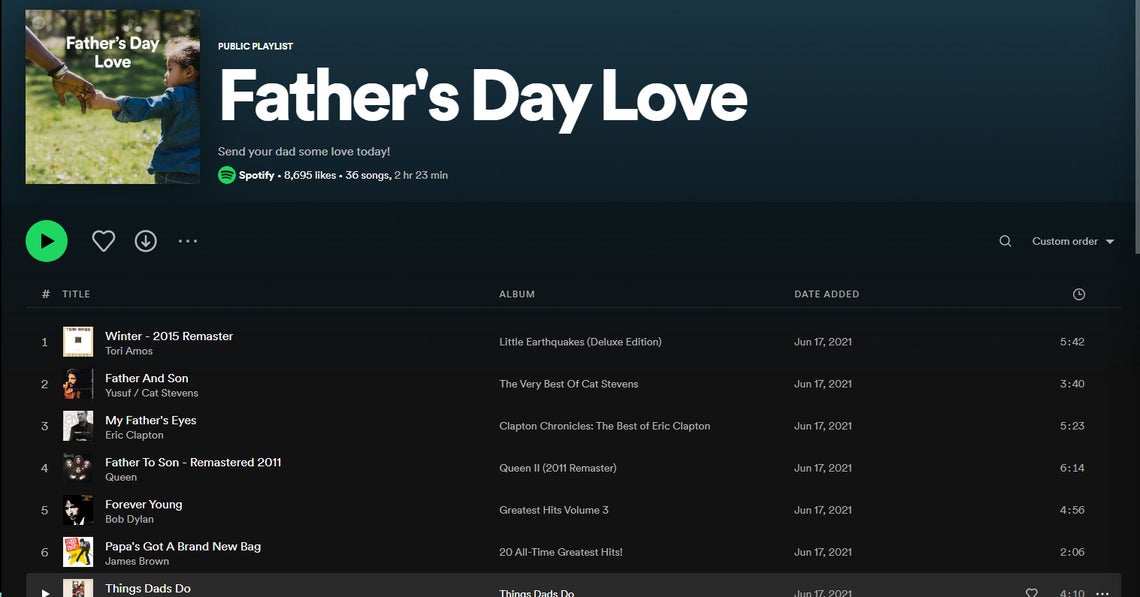 For the Sentimental Dad
Make him a playlist of your favorite songs or ones that remind you of him. Or, put together a video/slides of photos of your childhood or his.
For the Busy Dad
Get him a massage gift card or take him to a yoga class. Help teach him to slow down and learn to be in the moment.
For the Outdoorsy Dad
Go for a hike together or plan a camping or fishing trip. Spend some time together in the outdoors, and most of all, listen to him when he tries to pass on his knowledge of the world around you.
For the Dad With a Green Thumb
Buy him a fruit tree to plant or help him get a garden started. If he already has a garden space, offer to pull weeds or bring him some veggie seedlings that you can plant together.
For the Dad Who Loves to Cook
Take him on an outing to the farmer's market and let him pick out fresh ingredients for an amazing meal. Or, sign him up to receive a CSA box from a local farm where he can get locally grown produce on a regular basis. It's definitely a gift that keeps on giving!
For Your Husband or Partner
If they are old enough, get your kids in on the gift-giving. Have them give him a foot rub, make him breakfast, read him a story, or you can film videos of the kids all listing their favorite things about their dad. It can be nice to make plans to go out for Father's Day, but check in and make sure they wouldn't instead enjoy a nice relaxing day at home. Tune in to what he needs. If he is away from home working a lot, he may want to just chill for a while around the house, but if he works from home or stays home with the kids often, get out and go somewhere!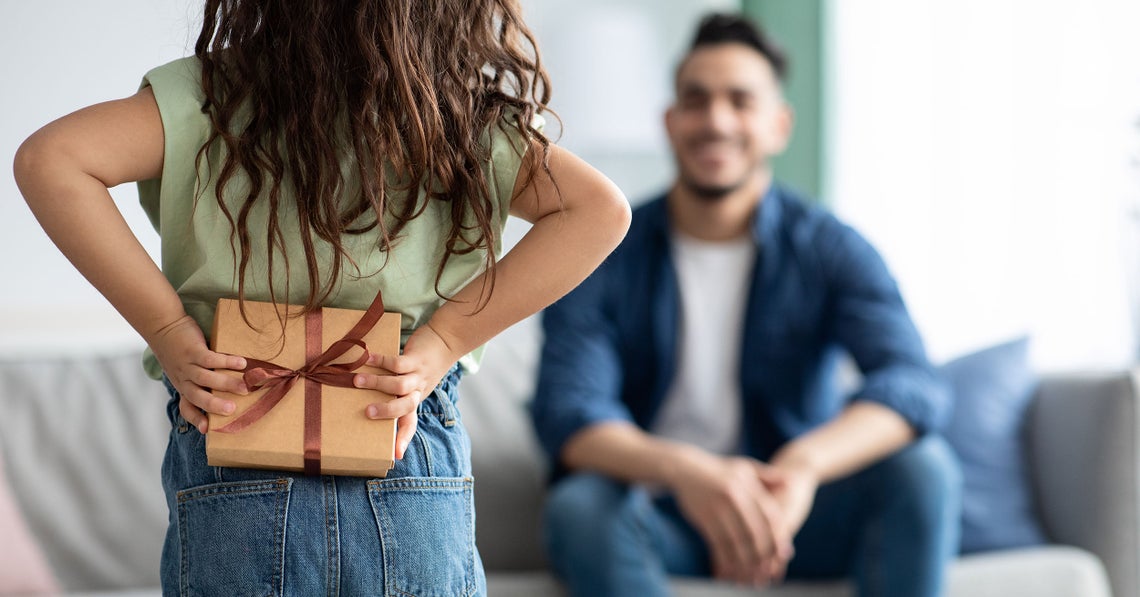 If you live farther away from your dad or another father figure and can't be with them in person, try sending him something that might get him out of his everyday habits and encourage an uplifting or creative experience.
A few ideas are; tickets to a concert, a tour of a botanical garden, a tai chi or qi gong class, a ceramics class, a round of golf, a permaculture workshop, or something that only you would know he would love. Sign him up for a masterclass series on cooking, science, music, photography, wine appreciation, or gardening, or let him choose something he is interested in.
Waking up to Wellness
Knowing the perfect gift can be a bit of a challenge sometimes, but a gift from the heart is always the right choice. Gifting something for Father's Day that can bring about wellness of the mind and body is supportive in so many ways, even if it's something he didn't know he wanted or needed. Almost any Live Conscious® product makes a wonderful gift, but for dads this year, our top choice is Beyond Greens®. This blend is a balanced approach to wellness as it is simple to prepare (you can literally just stir it into water), promotes digestive health (which results in whole-body wellness), and supports energy (so he can do more of what he loves.)
Especially if the father in your life isn't the kind to take care of himself, take the initiative to help him help himself by getting him some easy options that can make a big impact on his health. Because ZenWell® has a powerful adaptogenic herb, ashwagandha, it really can support almost every aspect of health, including overall resilience and support for daily stress. A balanced plant based-protein such as Live Conscious® Organic Protein can be a good way for dads to start the morning out right or a quick pick-me-up after a long day. Giving him fuel to keep up with life and have extra energy to do things he enjoys is a treat that will have long-lasting effects and help him feel fulfilled and content, which is a priceless and valuable gift.