We love it when the air starts to turn crisp, the leaves begin to transform their colors, and the holidays are on the horizon. This time of year is a time of turning inward, and as the seasons change, nature's focus begins to transition to a time of stillness and rest. Learning to take life slowly is an art form, and that's what fall and winter are all about.
Yet, in all the hustle and bustle of the holiday season, it's easy to get swept up in shopping, hosting or attending parties, or getting pulled in the direction of various family obligations.
Live Conscious® is here to let you know it's time to care for yourself, relearn how to rest your nervous system, and find ways to provide yourself the kind of deep nourishment your body craves this time of year. Prioritizing your needs can come in many forms, but a good place to start is by giving your body an abundance of nutrients that it can use to support your whole being.
Recipes to Keep You Warm and Nourished
Your immune, digestive, and nervous systems often get bombarded around the holidays, so why not give yourself support in any way you can? Adding in a few nourishing recipes can help balance the common seasonal stress that comes along with the fun and joy that the colder months bring.
These simple recipes can help you stay warm and cozy and give you much-needed support for your gut health, immune health, and overall well-being.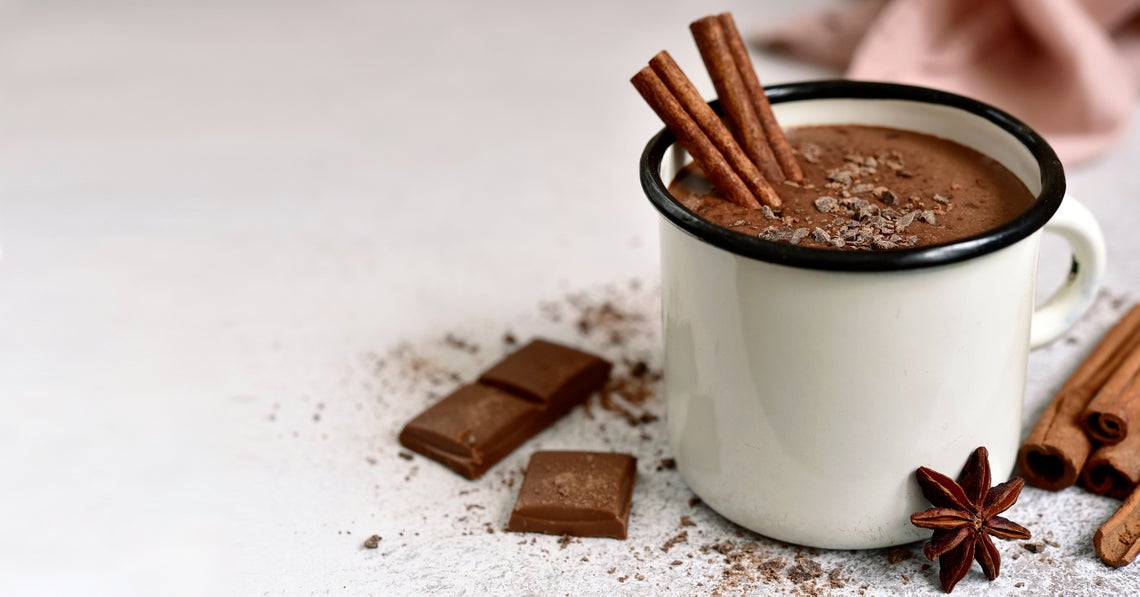 Ashwagandha-Infused Mushroom Hot Cacao
We're still going wild for our Beyond Brew blend with six different functional mushrooms and having fun experimenting with all the ways to mix it into new recipes. Although it's great all on its own with no additions necessary, it's always enjoyable to change it up and try new things.
Try this recipe that has the magic of ashwagandha in the mix, which makes this hot cacao blend supremely adaptogenic and like a sweet lullaby for your nervous system. Ashwagandha is a premier supplement for everyday stress and helps support healthy energy levels (and does about a million other good things for your body!). Pairing it with Beyond Brew is a cosmic combination; of course, you can't go wrong with all things chocolate!
Ingredients
10 ounces of water, milk, or non-dairy milk
½ teaspoon powdered ashwagandha root
1 tablespoon organic cacao (or cocoa) powder (unsweetened)
2 teaspoons Beyond Brew
1 teaspoon coconut butter or 1 tablespoon coconut cream
Optional- ⅛ teaspoon ground cinnamon and/or ginger
Optional- 1-2 teaspoons honey
Instructions
Combine liquid and ashwagandha into a small saucepan and bring to a gentle simmer. Add a lid and let simmer on low for 5-10 minutes. Let cool enough to be able to add to a blender and combine with remaining ingredients. Blend until smooth and foamy. Add to mug, and top with additional coconut cream or whipped cream if desired. Enjoy!
Want to keep it simple? Skip the prep and reach for ZenWell® with ashwagandha and L-theanine. Just mix up a cup of Beyond Brew and take ZenWell® with it for additional health benefits.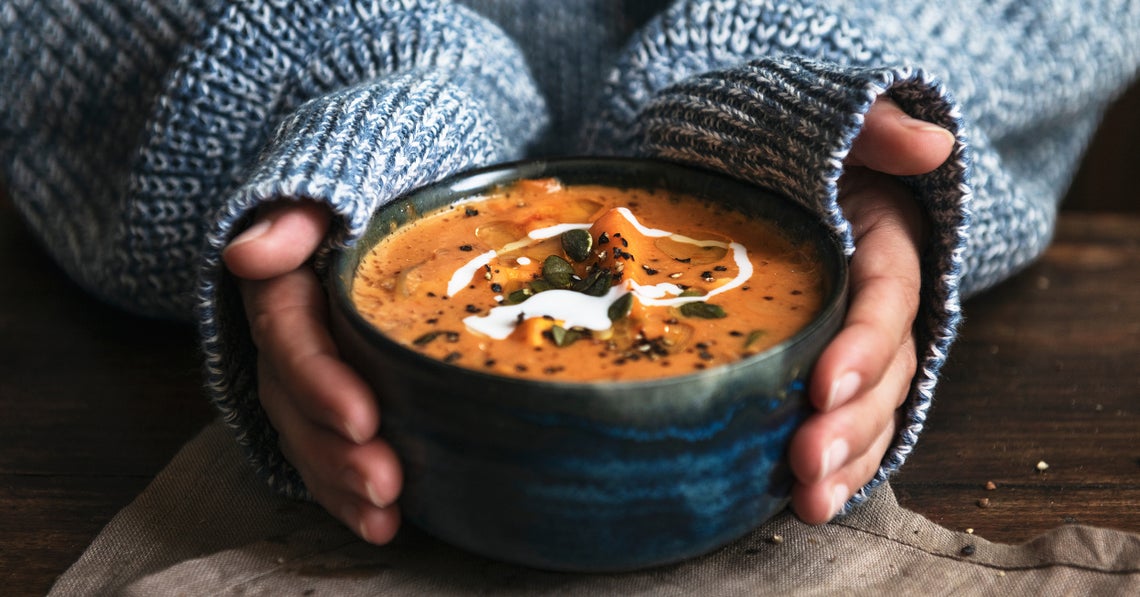 Perfect Pumpkin Collagen Soup
We all know collagen is great for hair and skin health, and guess what? So is pumpkin!!! It's full of carotenoids and other compounds that are especially good for your skin. Pumpkin and other winter squash also have naturally-occurring prebiotics, which helps to keep your gut and immune system happy.
Ingredients
1 15-ounce can of organic pumpkin puree (or 1 ½-2 cups cooked, mashed winter squash such as butternut or kabocha)
2 tablespoons butter
¼ cup onion, diced
½ teaspoon ground cinnamon
½ teaspoon granulated garlic or 1 garlic clove, minced
1 teaspoon ground coriander
1 scoop Live Conscious® Collagen Peptides or Beyond Collagen®
2-3 cups water or bone broth
¼-½ cup coconut milk or half and half
Salt & pepper to taste
Optional - omit garlic powder and add ½ teaspoon pumpkin pie spice
Additional optional toppings: Roasted & salted pumpkin seeds, a dollop of full-fat yogurt or coconut cream, fresh chives, minced parsley, or a sprinkle of chia seeds.
Instructions
Blend collagen in 2 cups of water or bone broth and set aside.
Melt butter in a medium-sized pot over medium to high heat. Add onion and saute until softened, about 4-5 minutes. Add spices, pumpkin puree, and the 2 cups of water or bone broth and collagen mix. Bring to a boil, reduce heat to low, and let simmer for about 10 minutes, adding more liquid to reach the desired consistency. Remove from heat and stir in coconut milk or half and half. Pour into bowls and add additional toppings if desired. Enjoy!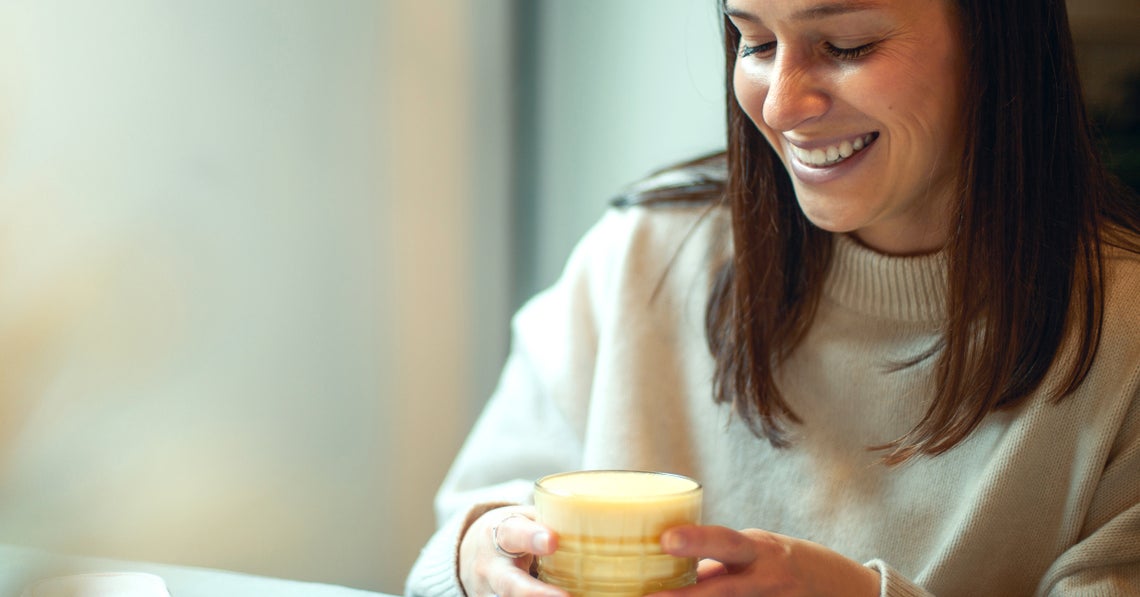 Protein-Packed Golden Milk
This golden milk recipe is based on a traditional drink originating from India called "haldi doodh." There are many variations of the recipe out there, and some, like this one, that veer from its traditional roots. The vibrance of turmeric and the soothing combo of spices is a welcome delight that provides incredible health benefits. Turmeric is one of those herbs that seems to do it all, and bringing it into your life can make a tremendous difference in the way you feel, mentally and physically!
Ingredients
1 ½ cups coconut milk or oat milk
1 scoop Live Conscious® Vanilla Dream Protein Powder
1 teaspoon ground turmeric
½ teaspoon ground cinnamon
¼ teaspoon ground ginger
⅛ teaspoon cardamom
½ teaspoon vanilla extract
1-2 teaspoons of honey
1 tiny pinch of black pepper
Instructions
Blend all ingredients (except honey) in a blender and pour into a small saucepan. Add lid and bring to a gentle simmer. If it seems too thick, add a little water or more coconut/oat milk. Add the honey and stir to dissolve. Let cool a bit, pour into a mug, and enjoy!
You can also receive many of the benefits of turmeric in our CurcuWell™ formula with a potent dose of 1,000 mg of turmeric's precious curcuminoids. This is a great way to receive ongoing health benefits from this cherished root without any preparation necessary.
Waking up to Wellness
These recipes will warm your body and soul. Giving ourselves a moment of rest and nourishment is important this time of year when getting pulled in so many different directions is easy. Taking the time to enjoy the simple things in life, like a good bowl of soup or a cup of magical and mystical Beyond Brew, translates into a life well-lived. Take a moment each day for yourself and see how much that can change the way you move through the world. This awareness may even lead to transformation in other parts of your life that could bring you to a place of wellness in ways that you never imagined possible.