No reason to be spooked by this tasty autumn treat! As the leaves begin to change color and the temperature drops, enjoying warm, wholesome (pumpkin spice!) waffles are the perfect way to start your morning with gratitude, satisfaction, and satiation! This is the tasty meal you've been waiting for, full of conscious ingredients and our decadent organic protein powder.
Credit: Katie Lopynski
Here's the recipe itself for your enjoyment. And why not enjoy some music while you cook and eat it? We've got a perfect playlist for you to check out! Plus, keep an eye out for more Conscious recipes on the way (and already here! Pancakes, anyone?)
Conscious Pumpkin Spice Protein Waffle Recipe
Ingredients
1 scoop Cosmic Cacao Protein
2 tablespoons coconut flour
½ cup pumpkin puree
1 ½ teaspoons pumpkin pie spice mix
¼ cup unsweetened almond milk
¼ cup water
1 large egg
1 teaspoon baking powder
1 ½ teaspoons sugar
Syrup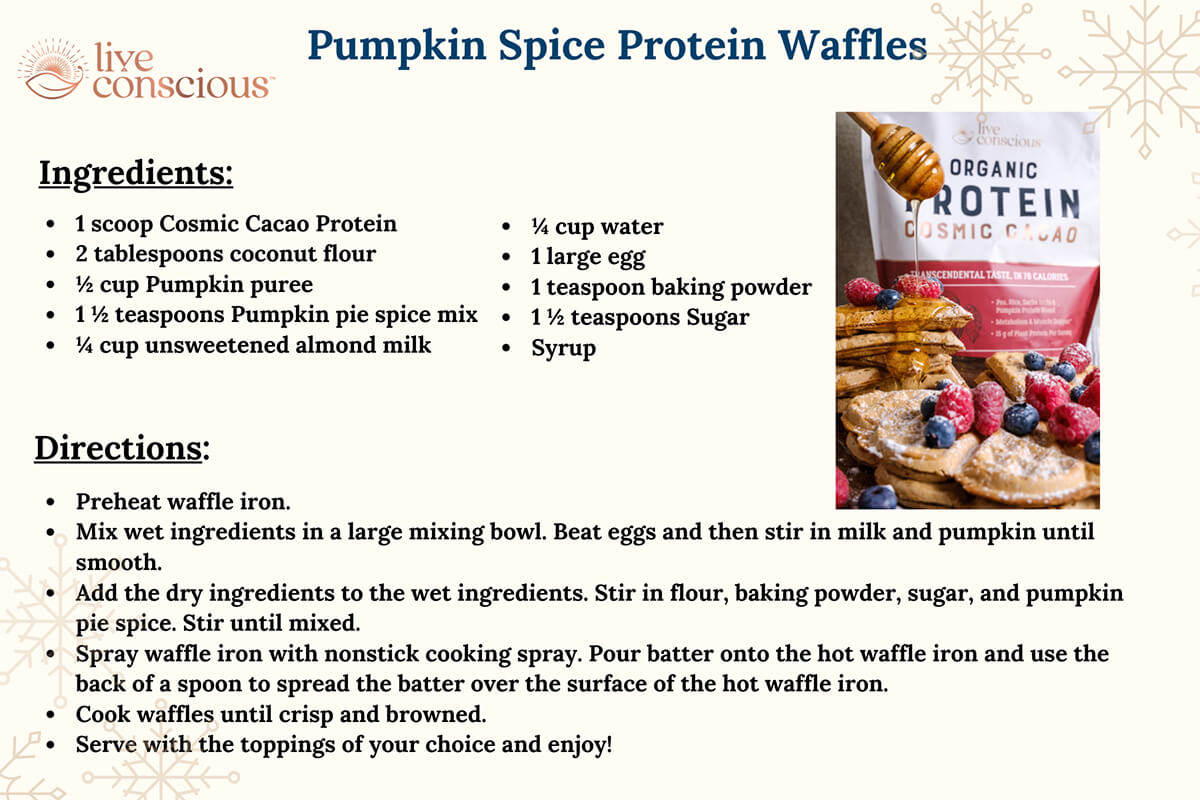 Directions
1. Preheat waffle iron. Mix wet ingredients in a large mixing bowl. Beat eggs and then stir in milk and pumpkin until smooth. Add the dry ingredients to the wet ingredients. Stir in flour, baking powder, sugar, and pumpkin pie spice. Stir until mixed.
2. Spray waffle iron with nonstick cooking spray. Pour batter onto the hot waffle iron and use the back of a spoon to spread the batter over the surface of the hot waffle iron. Cook waffles until crisp and browned.
3. Serve with the toppings of your choice and enjoy! Plus, here's a handy recipe card you can save!
The Cosmic Power of Organic Protein
Including protein as part of this waffle recipe is a great way to ensure you feel fuller for a longer period, that you get the protein you need to start your day, and that any exercise you might've just completed is as beneficial as possible. Getting the most out of your efforts is a sure-fire way to make your healthy lifestyle meet its true potential. So live your best life with the best waffle under the sun!
One of the most important reasons for using Live Conscious® Protein, apart from its tasty chocolate flavor, is that it's completely organic and plant-based while also being a complete protein. By using a blend of multiple plant proteins, you can ensure that you're getting the nutrients you need from your protein. It's the new way!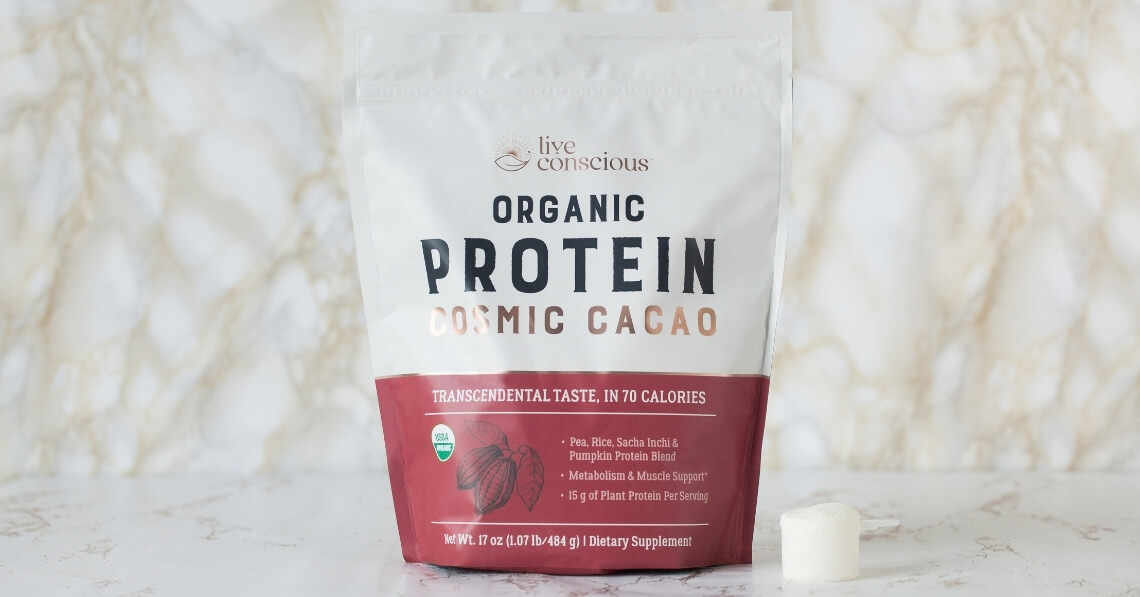 If you try just one type of plant-based protein, it's possible not to get enough of some amino acids or even none at all. For example, pea protein is technically a complete protein by itself, buuuuut while the amino acid methionine is present in pea protein, you might not get enough of it in a single serving.
By combining pea, rice, Sachi inchi, and pumpkin protein in a harmonious blend, you get the best of every world. Plus, adding protein to recipes has about as many options out there as there are stars in the cosmos.
Waking up to Wellness
Sweet, fluffy waffles make any fall day better in our opinion, and the addition of plant-based protein powder keeps you satisfied and satiated even longer. Protein is an essential macronutrient and part of a balanced diet, so making sure you get adequate amounts can help you maintain a healthy weight, improve your exercise benefits, and more! We hope you love them as much as we do!