Looking for the best new protein recipes? We've come up with some deliciously conscious recipes for you, and we think you're going to swoon over how good these recipes are — really, we think you'll swoon. Check them out.
Conscious Coconut Chocolate Protein Smoothie Recipe
What's not to love about a protein smoothie that's loaded with whipped cream, chocolate drizzle, and flakey coconut? Oh, did we forget to mention that this is a vegan smoothie recipe packed with good things for you?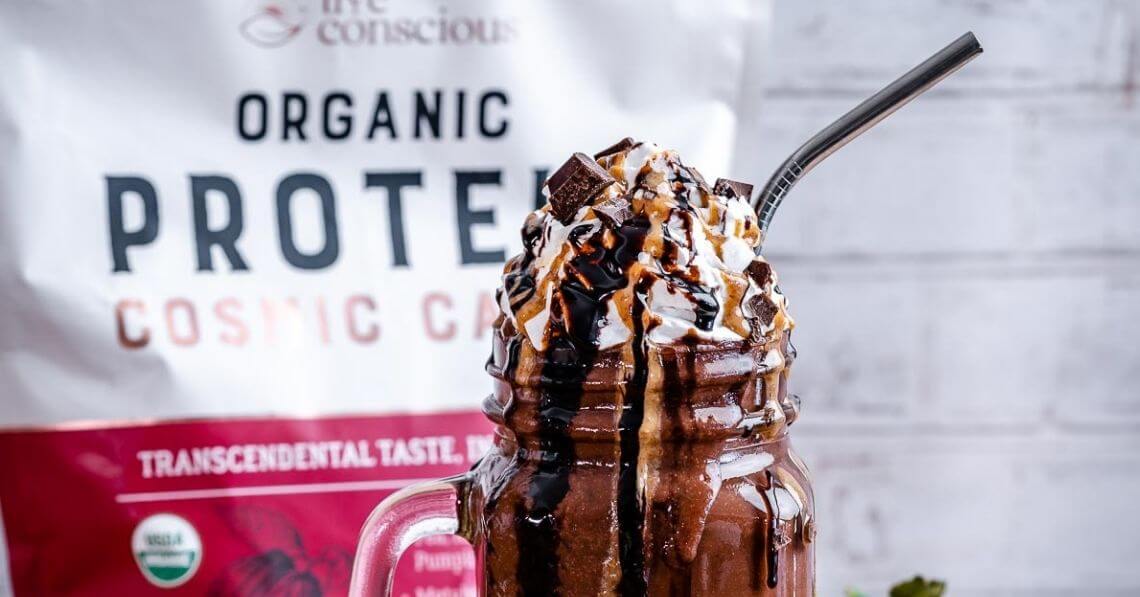 Ingredients
1 ½ tablespoons cacao powder
1 scoop Live Conscious® Cosmic Cacao Protein
1 cup cauliflower (frozen)
2 pitted dates
1 cup coconut milk
1 pinch salt
½ teaspoon vanilla extract
dairy-free whipped cream topping
1 tablespoon almond butter (drizzle)
vegan chocolate syrup (drizzle)
vegan chocolate chips
sprinkle toasted coconut flakes
Instructions
Blend all ingredients from the cacao powder down to the vanilla extract together. Once you get the consistency you want, pour your drink into your favorite glass and generously top with whipped cream, almond butter, chocolate syrup, chocolate chips, and toasted coconut flakes. You can play with the toppings and add or subtract anything you want to make this the most yum drink you've ever had. Want to see more? Check out our video for this decadent protein smoothie.
Health Benefits
Live Conscious Cosmic Cacao is a delicious chocolatey protein supplement that uses plant-based proteins, so you can stick to your healthy food choices and boost your protein consumption in an ethical way. Why consume more protein? It helps with weight management, muscle gain, and it supports a healthy metabolism.
This recipe also uses cauliflower and dates. Cauliflower is a cruciferous vegetable high in fiber (which makes you feel full) and B-vitamins, antioxidants, and phytonutrients. Dates have a great smooth texture, and they're sweet, but they're also loaded with fiber and have some very important vitamins, minerals, and antioxidants that your body needs and benefits from.
Conscious Vegan Vanilla Almond Protein Smoothie Recipe
Here's another smoothie recipe. Getting tired of chocolate? Okay, that's a joke — who gets tired of chocolate? But how about giving a vanilla recipe a try? Again, we're fixated on healthy vegan ingredients that taste like something you'd find in a good, old-fashioned malt shop.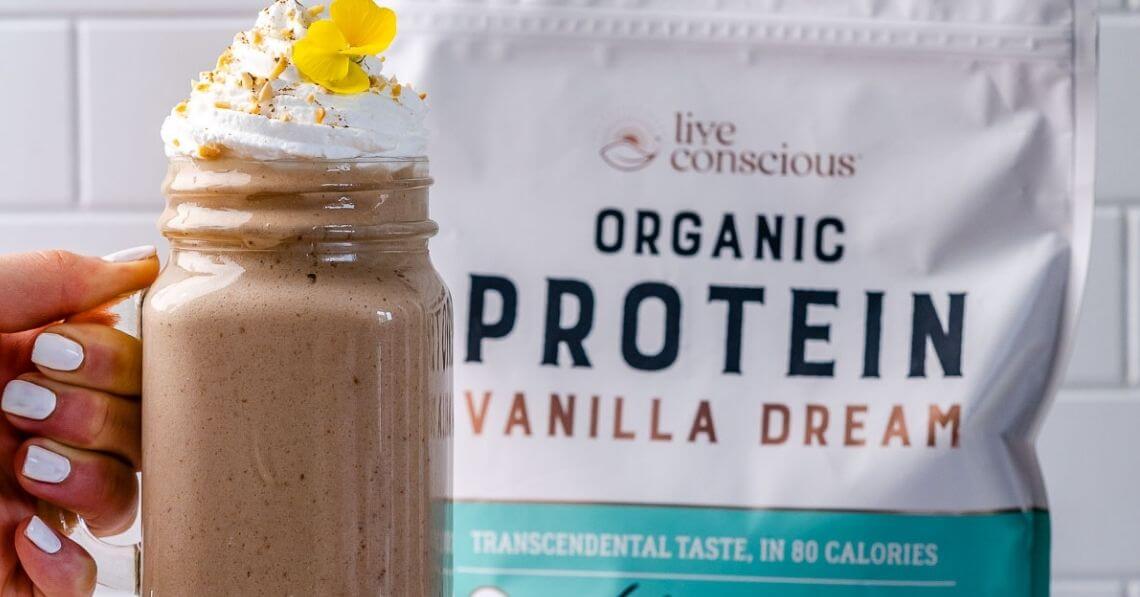 Ingredients
1 banana, frozen
1 scoop Live Conscious® Vanilla Dream Protein
2 tablespoon almond butter
1 handful ice
1 cup almond milk
⅛ teaspoon vanilla extract
almond crumbles
white chocolate flakes
cinnamon sprinkle
Instructions
Blend ingredients from the banana down to the vanilla extract together until you get the consistency you want, and then pour into a glass and top with suggested items or add your own for a personal flair. In our video, you'll see that we've added a little edible orchid because why not? It's pretty and will have you feeling like you're tucking into a divine delight — which you are!
Health Benefits
Live Conscious Vanilla Dream Protein powder gives you the same metabolism and muscle support that our chocolate protein powder does, but this one has a light and fragrant vanilla flavor. Once again, it's all vegan, so this plant-based protein helps you make those ethical choices that are important to you.
You'll notice that this recipe triples up on the almond, and we do it for a good reason — almonds are good for you! Almonds are also tasty, but we're looking at health benefits here. Almonds load you up on fiber, protein (yes — more protein!), vitamin E, manganese, magnesium, and healthy fats. Here's something interesting about the calories in almond fats; your body doesn't absorb about 10% of them because the fat isn't digestible. Strange, right? So it's almost like getting free calories.
Conscious Gooey Gluten-Free Chocolate Brownies Recipe
Want to eat gooey, chocolatey brownies without the guilt or the calories? How about if we made them vegan, gluten-free, and added some protein? It just keeps getting better. Want to see how much better this is? Check out our recipe video, and you'll quickly run to the kitchen to start making your own brownie delights. BTW — try them out on your family; they won't even know they're eating healthy treats.
Ingredients
1 scoop Live Conscious® Cosmic Cacao Protein
1 can condensed milk or cream of coconut
½ cup butter
1 teaspoon vanilla
1 cup almond flour
½ cup coconut sugar
¼ cup cacao powder
½ teaspoon salt¼ teaspoon baking soda
¾ cup chocolate chips
flaky sea salt topping
powdered sugar topping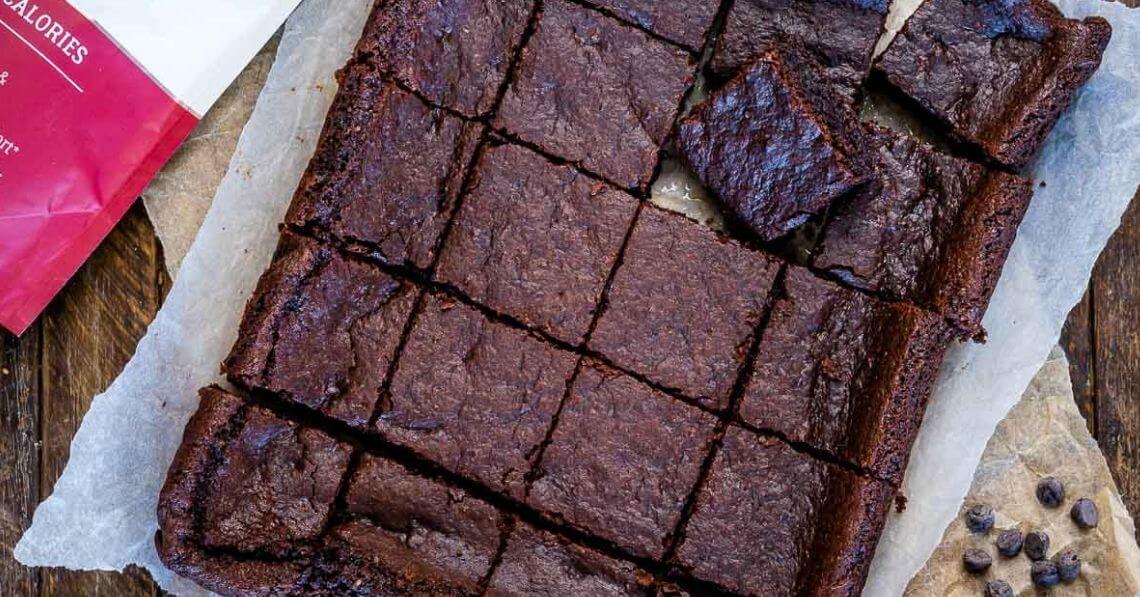 Instructions
Preheat oven to 350°. Add softened butter (not melted) to coconut sugar and whisk together.
Combine almond flour, protein powder, cacao powder, salt, condensed milk (or cream of coconut), vanilla, and baking soda. Blend until incorporated. Fold in chocolate chips.
Pour mixture into a parchment-lined 9"x 9" baking pan. Bake in 350° oven for 25 minutes. Let cool and sprinkle on sea salt and powdered sugar, drizzle chocolate syrup over your serving and enjoy!
Health Benefits
This recipe is really all about giving you the health benefits of additional protein in a way that satisfies those cravings for decadent chocolate desserts. It's a way to feel totally good about indulging because it's not really an indulgence, and it's going to prevent you from eating handfuls of other treats as you battle within for a compromise. Believe us; this is that one treat you want to have in the freezer for when those cravings hit.
Conscious Vanilla Oat Protein Pancakes Recipe
Here it is! If there's one way to incorporate your favorite protein powder into a meal…or a snack, it's pancakes, and they're delicious anytime, especially when you use this recipe because we've made it as healthy as possible.
Please note that our recipe does have eggs in it, so it is not vegan. Please feel free to swap out the eggs for a flax egg, applesauce, or your favorite egg substitute if you're looking for a vegan option. Because our protein mix is completely plant-based, you don't have to worry about that part.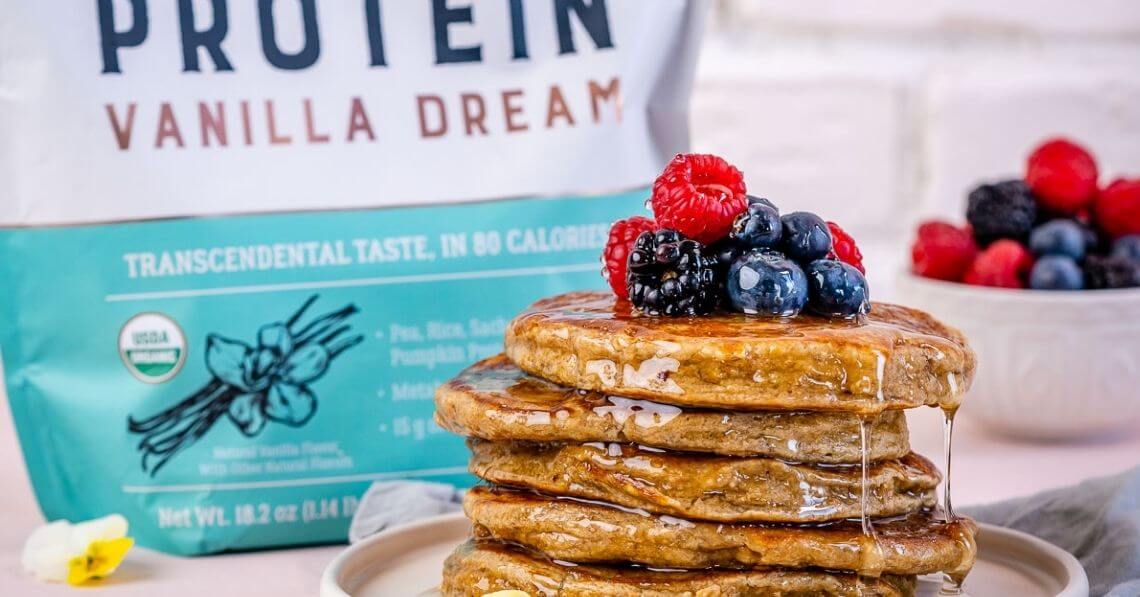 Ingredients
1 cup fine ground oats
1 scoop Live Conscious® Vanilla Dream Protein
2 teaspoon baking powder
½ cup plain Greek yogurt
2 large eggs
1 tablespoon agave syrup
2-3 tablespoon almond milk
1 cup berries, garnish
Instructions
Add oats, protein powder, baking powder, yogurt, two eggs, agave syrup, and almond milk in a medium mixing bowl. Stir until well mixed. Drop onto a hot griddle and cook, flipping when you begin to see bubbles. Drizzle with additional agave syrup, sprinkles, or berries. You can share if you want — we wouldn't. Want to see how they're made? Check out our video.
Health Benefits
Ah, oats. We know you love them because we do too. They're that homey ingredient that reminds you of childhood, and they're so versatile that they can be made to taste like just about anything. So why are they good for you? They're an important source of vitamins, minerals, and antioxidants. They can help with weight management, lower blood sugar levels, and support heart health. And all of that is reason enough to indulge in these pancakes.