365 Day, Money-Back Guarantee
---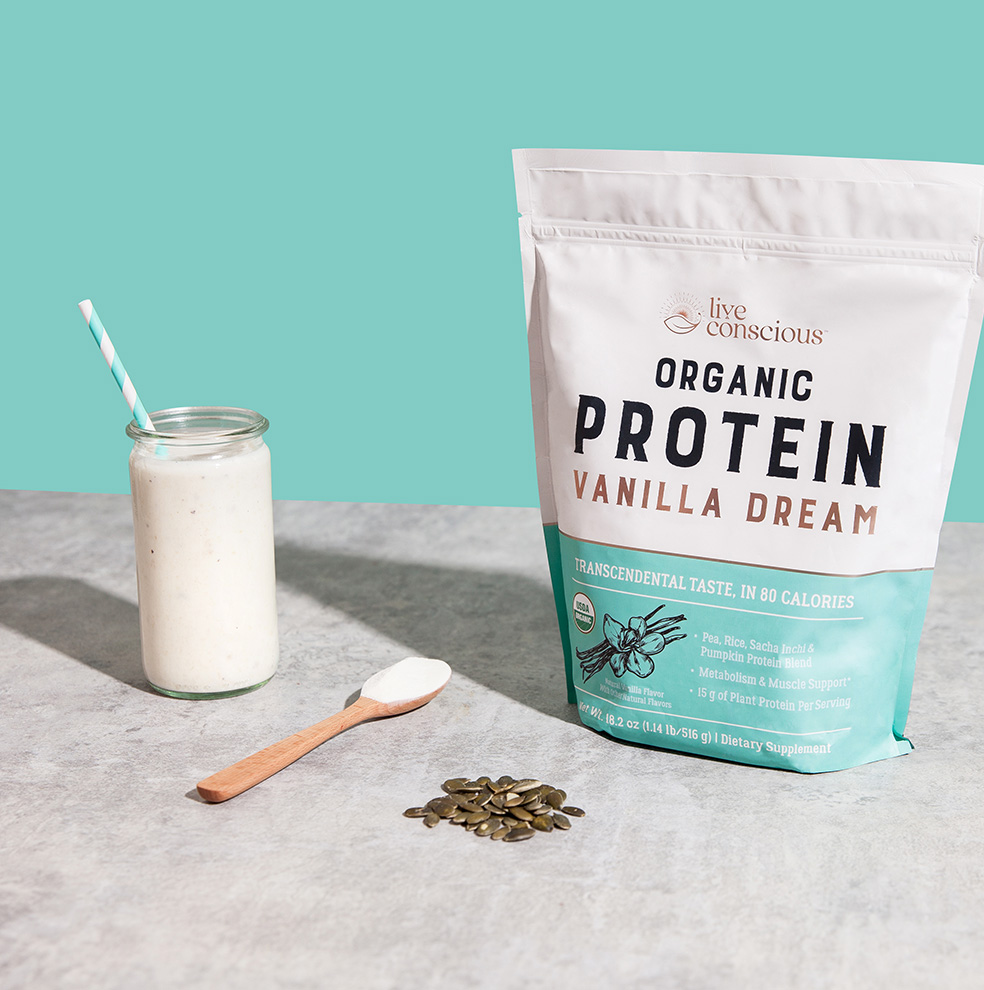 the power of how (it works)
Intention: Metabolism & Muscle Support*
Center your strength, metabolism, and overall health with pure, organic Protein by Live Conscious®.* Thanks to an advanced formula, these plant-based proteins will have you exploring the furthest reaches of your potential while staying mindful of the wholesome everyday health you've been fantasizing about.*

It's a new reality of ethical protein using the latest advances in nutrition, which you can enjoy in the creamy, rich offering of Vanilla Dream. Feel like shaking things up?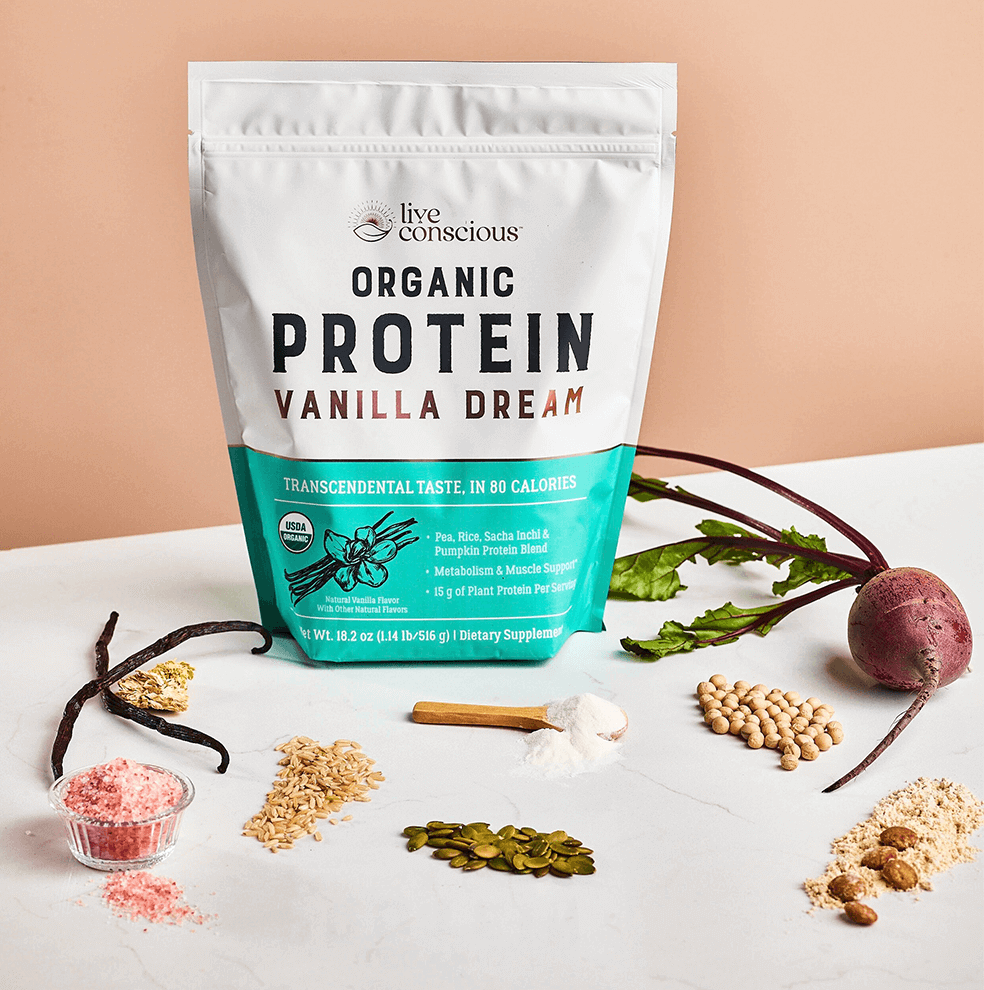 a look inside
(key ingredients)
Sacha Inchi Seed

Rich in amino acids and even omega-3s.*

Yellow Pea

One of the most complete plant proteins available.*

Pumpkin Seed

Nutritious amounts of protein and minerals.*

Brown Rice

Completes the mix as a natural source of methionine and more.*
Shop Now >View Full Nutrition Label >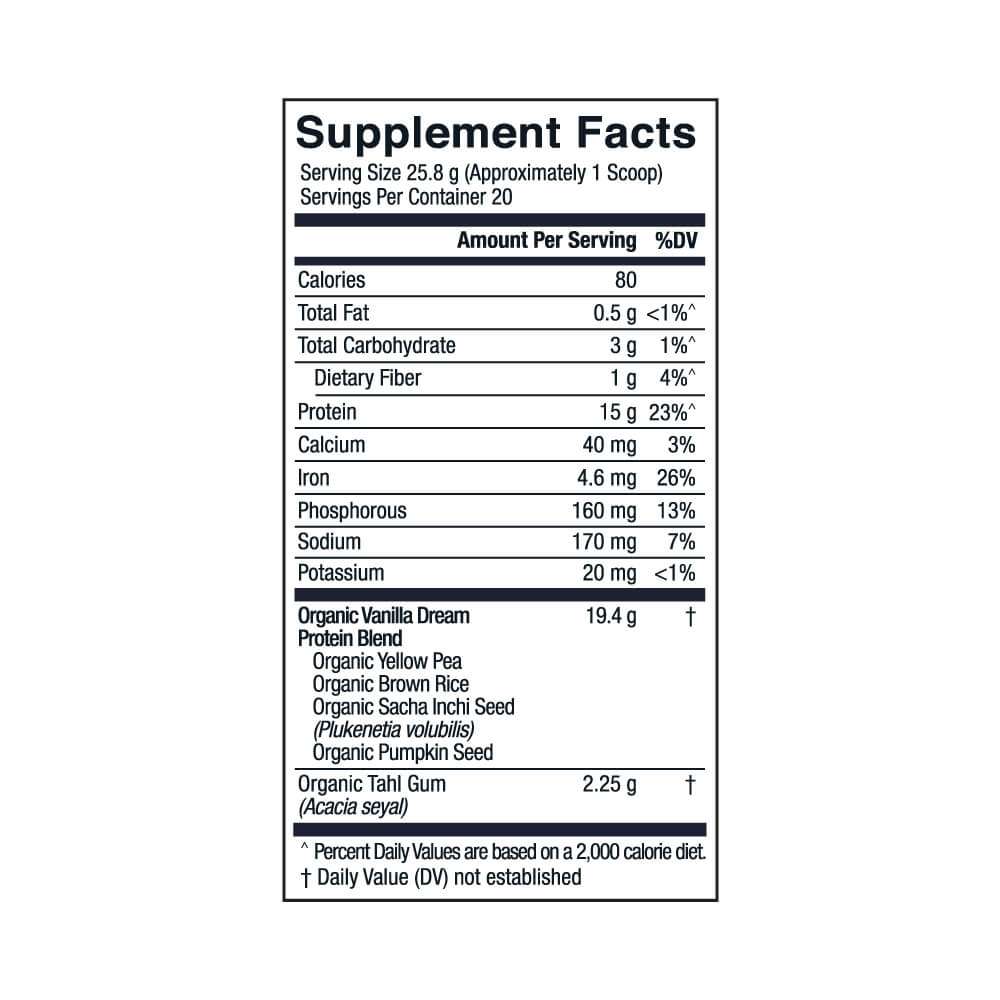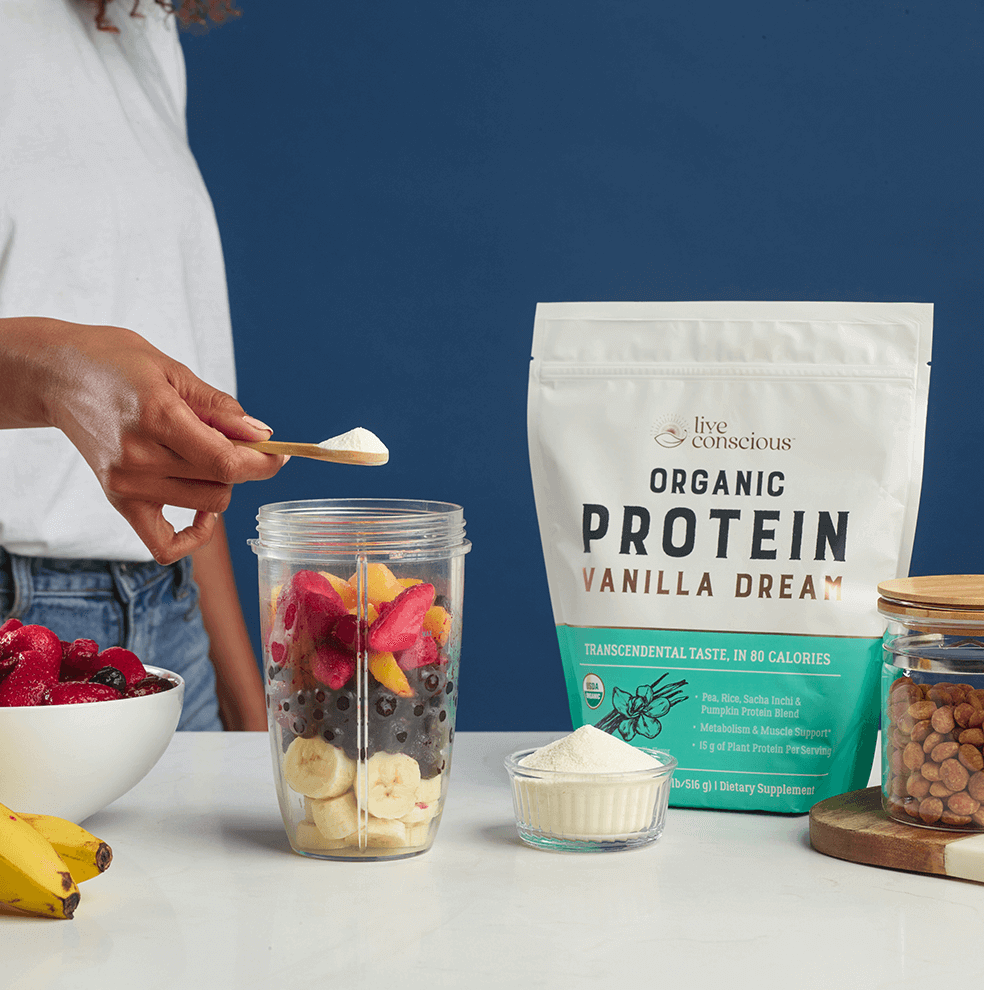 science & creation
Plants are the way. By combining the best parts of each type of the 4 plant-based proteins in one amazing, tasty formula, you can keep all their special benefits together.*

The Live Conscious protein blend works synergistically to create a complete protein formula. Yellow pea protein contains all 9 of your essential amino acids, but it's a little low in one (methionine), so combining it with brown rice protein, which is high in methionine, ensures you get what you need.*

Whether it's for your workout performance or muscle support, Live Conscious Proteins are the wholesome, powerful supplement you've been waiting for.*
how to take & transcend
Mix/shake 25.8 g for 30 seconds daily with 16 fl oz of your favorite beverage.
Manufactured in the USA

Our line of natural products, manufactured in the USA with domestic and imported ingredients, employs stringent quality control standards that exceed expectations set by cGMP (Current Good Manufacturing Practices).

3rd Party Tested

We double down on our commitment to truth in labeling, ingredient safety, and product potency with independent, 3rd party testing, giving you peace of mind that what's on the label is also what's inside the bottle.
mantra & promise
my mind is sharp, my body healthy, my spirit at ease.
---
We promise to remain curious in creating traditionally sourced, clinically proven offerings to balance your mind, body and spirit in the modern world. Whether we're concocting a vitamin, probiotic, or protein powder, we are focused on creating natural products that have the greatest potential to revolutionize your wellbeing.
Why They Adore It
Write a Review
In the interest of transparency, we never use incentives to influence these reviews.
Wow! I've tried lots of different protein shakes, but this one's a game-changer!!! Tastes delicious with just water -- I can pick it up and run out the door and keep away cravings before a long hike or after a gnarly day at the crag! The best part is it doesn't weigh me down. LOVE!
I was skeptical at first about the taste, but this protein powder lives up to the hype. Both the Cosmic Cacao and Vanilla Dream are hands down the best protein powders I've ever tried. They hit the spot after a long hike in the woods.
I used to take whey after workouts, but it always left me feeling bloating and gassy. Then I switched to Huel because I heard it was plant-based and easy on the stomach – but it still made me feel gross! Then I tried Organic Proteins. I was blown away by just how amazing it tasted (even in water!) Best of all, it gives me just what I need after a workout, minus the timmy issues.
Two things stand out significantly to me about this protein - how good it tastes for how low calorie it is. It's the lowest calorie, best-tasting protein I've ever seen and had which effortlessly helps me reach my wellness goals.
Not only is this protein delicious and can be made with various combinations, but combined with HIIT classes three times a week I've noticed a HUGE difference in my metabolism, my body has become more toned than when I wasn't incoporating protein supplements.