Ready to go beyond? It's that time of year when the birds are chirping, the sun is rising ever earlier, and you may be filled with the promise of new beginnings. Start fresh each morning by giving yourself a little something to enjoy that also nourishes your body, mind, and soul. Inspire your existence with a new twist that will amplify your energy and focus while giving you a daily ritual that helps you harness the potential of each new day.
Enter Beyond Brew. With six different functional mushrooms, prebiotics, probiotics, organic cacao, and a decadent flavor, you can indulge each morning in a cosmic combination that leaves you feeling all kinds of self-love.
Although mushrooms might be our newest heartthrob, we wouldn't let go of our tried and true staple for joint, skin, hair, and nail health —Beyond Collagen. Through thick and thin, this supercharged formula of 5 types of collagen with vitamin C and biotin helps to preserve our beauty, inside and out.
We want to look good and feel good, so we've decided we need both of these in our lives every single day. Of course, you can simply mix these into a little hot water, add a splash of coconut creamer or whatever you like, and bam — instant gratification that feeds your beauty and brains. But for those of you who would like to take it to the next level, we've whipped up some enticing recipes for you to try. Use these recipes to create a morning ritual that enhances your awareness and lets you fully immerse yourself in each sip.
Which of these will be apart of your newest morning routine?
Beyond Beautiful Coffee
This one is so easy you don't really even need a recipe, but to make it fool-proof, here you go!
Ingredients
1 cup of coffee (organic, fair-trade, and shade-grown, if possible)
2 teaspoons Beyond Brew
1 tablespoon Beyond Collagen
Optional — creamer, milk, or non-dairy milk
Optional — sweetener of your choice
Instructions
Brew coffee and stir in Beyond Brew and Beyond Collagen. Add creamer and sweetener if desired. For a frothy treat, add everything to a blender and blend until ingredients are mixed well. You can also make your coffee extra strong and blend with ice for a cooling treat.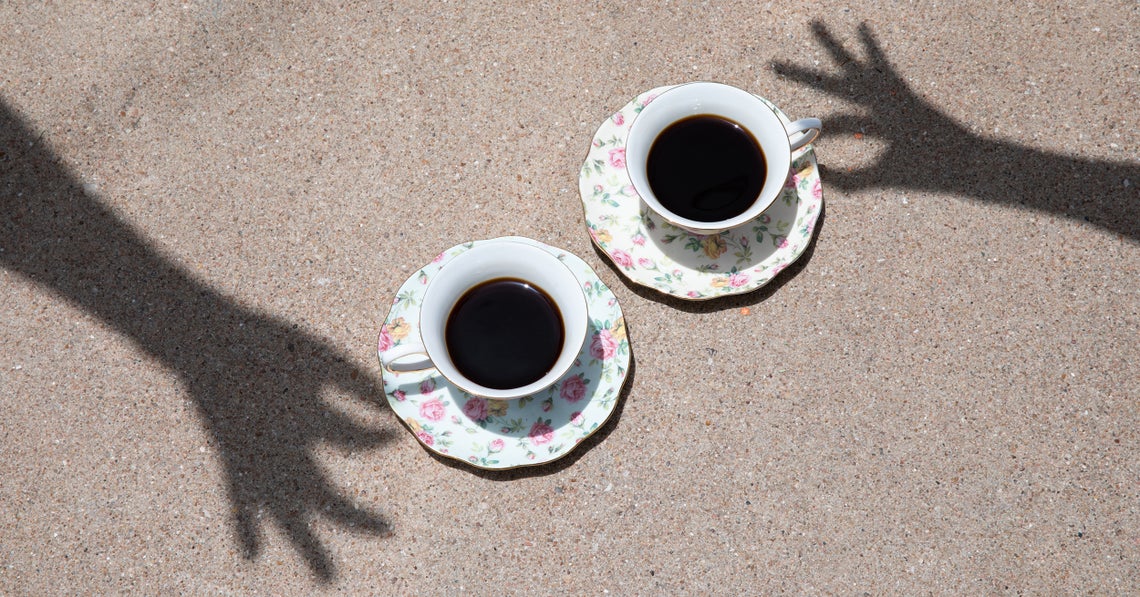 Beyond Herbal "Coffee"
This recipe features chicory and dandelion root as a tasty replacement for coffee, providing the roasted flavor experience without caffeine. These herbs support your built-in detoxification processes and liver health, which is vital for the spring season. Be sure to drink extra water throughout the day if you're using these herbs to help assist the body in important everyday detoxification.
Ingredients
8-10 oz water
1 teaspoon roasted chicory root
½ teaspoon dandelion root
2 teaspoons Beyond Brew
1 tablespoon Beyond Collagen
Optional — 1-2 tablespoons creamer or non-dairy milk
Optional — 1-2 teaspoons sugar or honey
Instructions
Pour boiling water over chicory root and dandelion root, cover with a lid, and let steep for 20 minutes. You can also do this step the night before if your mornings are rushed. Strain and add Beyond Brew, Beyond Collagen, creamer or milk, and sugar if using. Although you can simply stir these in, we like to blend them for a more frothy consistency that is super satisfying. For an iced coffee-type drink, use only 8 oz of water and add ice cubes before blending.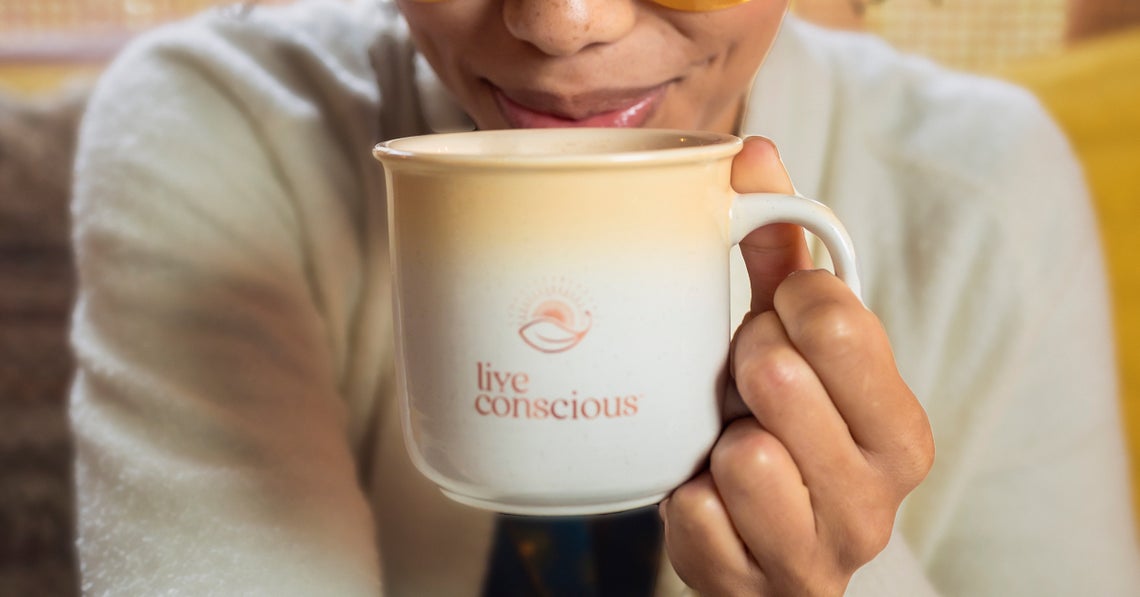 Transcendent Mocha Latte
Ingredients
½ cup prepared espresso or strong coffee
2-3 teaspoons Beyond Brew
1 tablespoon Beyond Collagen
1 cup whole milk, warmed and divided (non-dairy milk can be substituted, it just won't be as frothy. Full-fat coconut milk or oat milk are good options)
Optional — sugar or other sweeteners
Additional tools — Milk frother, whisk, or a mason jar
Instructions
Add espresso or coffee to a mug with ½ cup of milk, stirring well to combine. Mix remaining ingredients in a separate container with a milk frother if available. If you don't have a milk frother, add remaining milk, sweetener, Beyond Brew, and Beyond Collagen to a jar with a tight-fitting lid and shake vigorously for 20-30 seconds until frothy. You can also whisk these ingredients together until foamy, but it will just take longer. Pour frothed ingredients over the espresso mixture and enjoy!
Glorious Morning Overnight Oats
If you aren't a coffee drinker or need a satisfying start to the day, try this quick breakfast recipe you can make the night before that magically transforms into an enticing and nourishing morning meal, all while you are fast asleep.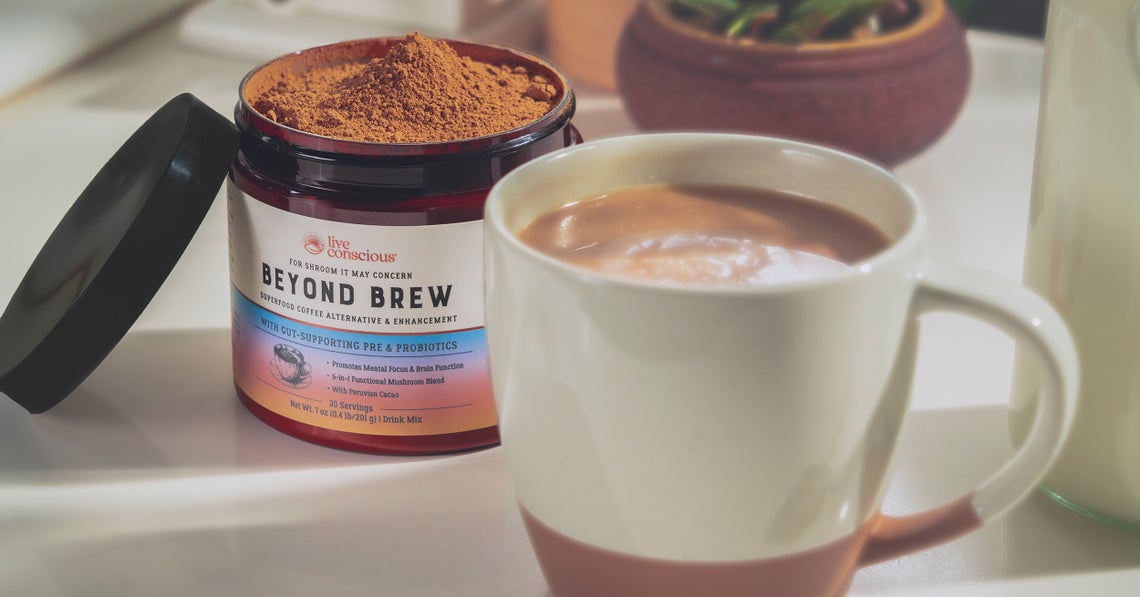 Ingredients
½ cup old-fashioned rolled oats
2 teaspoons chia seeds
2 teaspoons Beyond Brew
1 tablespoon Beyond Collagen
½ cup non-dairy milk (we like almond)
½ teaspoon vanilla extract
1 tablespoon pure maple syrup (adjust as necessary, especially if you are using sweetened milk)
A pinch of salt
Optional — 1-2 tablespoons of peanut butter or almond butter
Optional — ¼ cup full-fat yogurt
Instructions
Add all ingredients to a bowl and stir thoroughly to combine. Pour into a jar and refrigerate overnight or for at least 4 hours. Serve chilled or warm before eating. You can also double or triple this recipe and divide into 2-3 jars to have breakfast made ahead of time for several days. For a creamier result, add the yogurt or drizzle the finished result with full-fat coconut milk.
Waking up to Wellness
We all love that precious self-care time, but it's not always easy to fit it in. By starting your morning off with a personalized ritual that helps you stay rooted in conscious practices that keep you on the path to wellness, you can carry that inspired vibe with you all day. It doesn't have to be a long, drawn-out process; even making a simple cup of coffee can be a self-care ritual if you have the awareness to go along with it. With Beyond Brew and Beyond Collagen, you can set aside a moment for yourself that helps you get centered and brings awareness to the here and now, which can turn each day into a beautiful gift.