365 Day, 100% Money-Back Guarantee
@Byrdie has named #LiveWellLabs Collagen Peptides "Top 13 Best Collagen Powders"
@USWeekly has named #LiveWellLabs MagWell "Top 5 Zinc Supplements That Have Amazon Reviewers Feeling Their Best"
@FabFitFun has named #LiveWellLabs Collagen Peptides "The Best Overall Collagen Peptides Supplement for Hair, Skin, & Nails."
@Observer has named #LiveWellLabs Beyond Greens "The Best Superfood Powders for Your Daily Dose of Greens"
@Discover has named #LiveWellLabs OmegaWell "Top 10 Best Fish Oil Supplements"

@MedicalNewsToday has named #LiveWellLabs OmegaWell "The Best Omega-3 Supplement"
@GlobeNewswire has named #LiveWellLabs Collagen Peptides "One of the Best Collagen Supplements of 2021"
How it Works
LiverWell™ combines patented Siliphos® bioavailable silybin milk thistle extract, with superior absorption to aid liver and kidney function, with the cleansing power of L-cysteine and the rejuvenating strength of Alpha Lipoic Acid.*

The addition of Vitamin C, Zinc, and Selenium promotes antioxidant protection from common oxidative stress to maximize liver health.* We've also included magnesium which helps to maintain liver health while supporting the liver's ability to perform its regular cleansing activities for the blood and body.*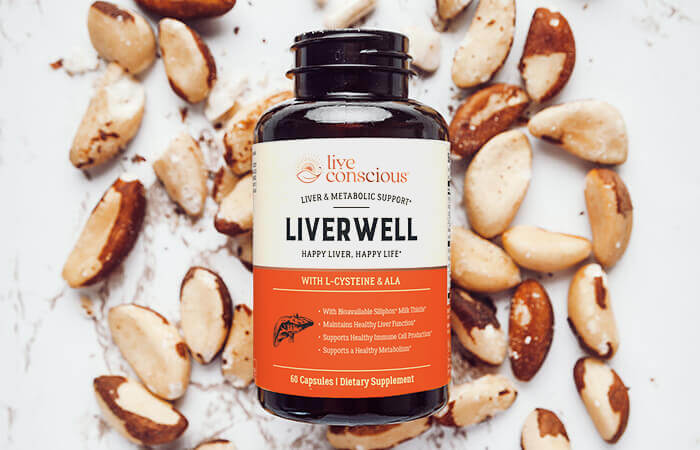 Key Ingredients
milk thistle

Siliphos® is a modern optimization of the age-old milk thistle plant for liver health.*

L-cysteine

This chemical compound is the building block of the powerful antioxidant glutathione.*

Alpha Lipoic Acid

An important antioxidant, ALA can support the natural defenses of cells.*
Shop NowView Full Nutrition Label >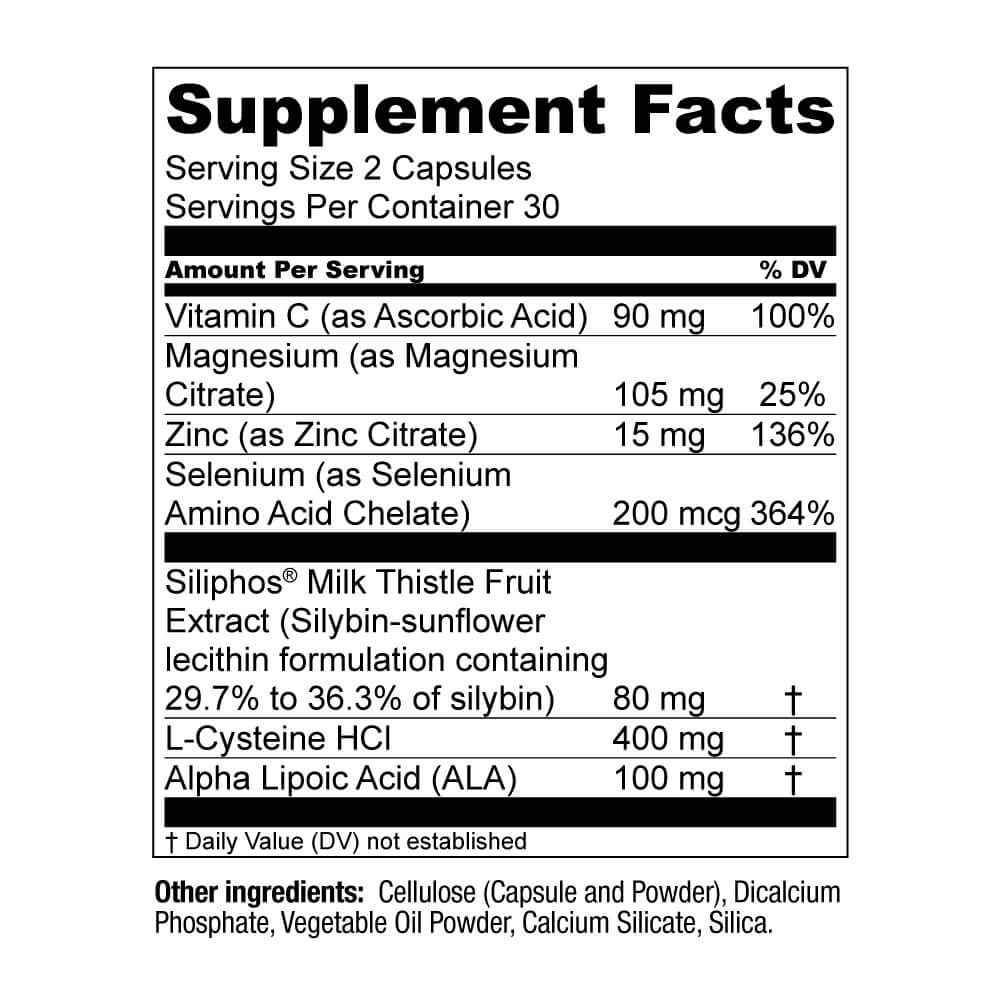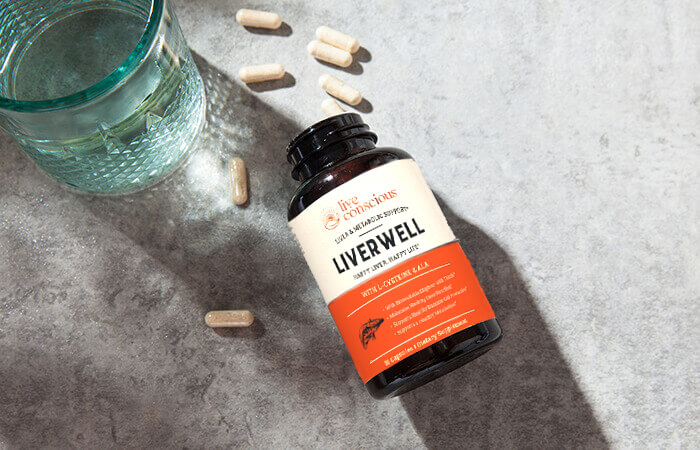 Science & Creation
Siliphos® is derived from milk thistle, which can help maintain strong liver functioning.* Siliphos® builds on that intrinsic benefit by adding increased bioavailability for for maximum support.*

L-cysteine can be an important cleansing agent with powerful antioxidant abilities that help reduce typical oxidative stress on the liver.*

Alpha Lipoic Acid is another incredible antioxidant included in LiverWell™ to benefit the liver specifically.* ALA's antioxidant role may help prevent and reduce oxidative issues associated with normal aging.*
how to take & transcend
Take two (2) capsules daily with a meal.
Manufactured in the USA

Our line of consciously-crafted products, manufactured in the USA with domestic and imported ingredients, employs stringent quality control standards that meet or exceed expectations set by cGMP (Current Good Manufacturing Practices).

3rd Party Tested

We double down on our commitment to truth in labeling, ingredient safety, and product potency with independent, 3rd party testing, giving you peace of mind that what's on the label is also what's inside the bottle.
My mind is sharp, my body healthy, my spirit at ease.
---
We promise to remain curious in creating consciously-crafted, comprehensive offerings to balance your mind, body and spirit in the modern world. Whether we're concocting a vitamin, probiotic, or protein powder, we are focused on creating naturally-derived products that have the greatest potential to revolutionize your wellbeing.
why they adore it
Write a Review
In the interest of transparency, we never use incentives to influence these reviews.
This is not the same liverwell I purchased before. It no longer contains N-Acetyl Cysteine (NAC), which is the number one train I purchased this supplement.
I love this brand. Ingredients are just right. Shows company has put a lot of thought into it. Thanks.
It does not upset my stomach, which some supplements do. I will continue to take this so it has time to work.
Package came quick and sealed unlike some of the other reviews.
No free trial? No cheap one time 30 day supply? Why would I buy 6 bottles for $150 of something I have never tried?