365 Day, 100% Money-Back Guarantee
@Byrdie has named #LiveWellLabs Collagen Peptides "Top 13 Best Collagen Powders"
@USWeekly has named #LiveWellLabs MagWell "Top 5 Zinc Supplements That Have Amazon Reviewers Feeling Their Best"
@FabFitFun has named #LiveWellLabs Collagen Peptides "The Best Overall Collagen Peptides Supplement for Hair, Skin, & Nails."
@Observer has named #LiveWellLabs Beyond Greens "The Best Superfood Powders for Your Daily Dose of Greens"
@FabFitFun has named #LiveWellLabs Beyond Greens "The Perfect Health Supplement to Boost Your Immune System"
@Discover has named #LiveWellLabs OmegaWell "Top 10 Best Fish Oil Supplements"
@MedicalNewsToday has named #LiveWellLabs OmegaWell "The Best Omega-3 Supplement"
@GlobeNewswire has named #LiveWellLabs Collagen Peptides "One of the Best Collagen Supplements of 2021"
How it Works
Beyond Collagen® by Live Conscious® is collagen complimented by extras. Featuring 5 types of collagen protein, supercharged with biotin and vitamin C, this transformative formula was crafted to take your collagen experience to the next level.*

Collagen is fundamental to the beauty of your hair, skin, nail, and joint health, and the addition of biotin and vitamin C amplifies collagen synthesis in the body, magnifying beauty benefits.* It's time to express your true radiance, one scoop at a time.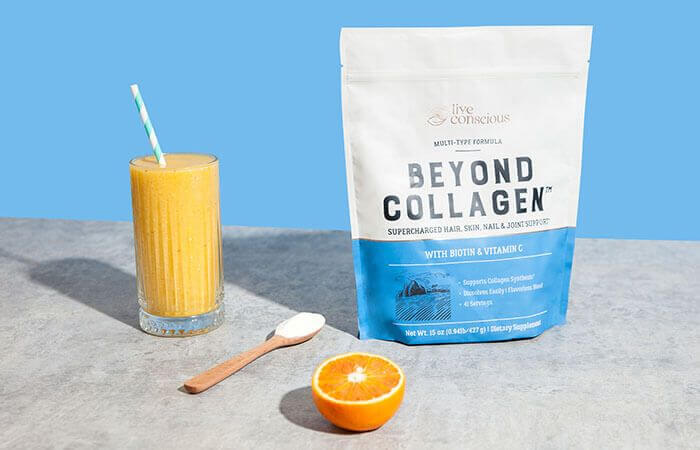 Key Ingredients
Proprietary Collagen Blend

Our blend contains types I, II, III, V & X collagen. Each type plays a role in supporting your hair, skin, nails, and joints.*

Vitamin C

Vitamin C is an important part of natural collagen production.*

Biotin

Biotin helps your body create the keratin it needs for healthy hair, skin, and nails.*
Shop NowView Full Nutrition Label >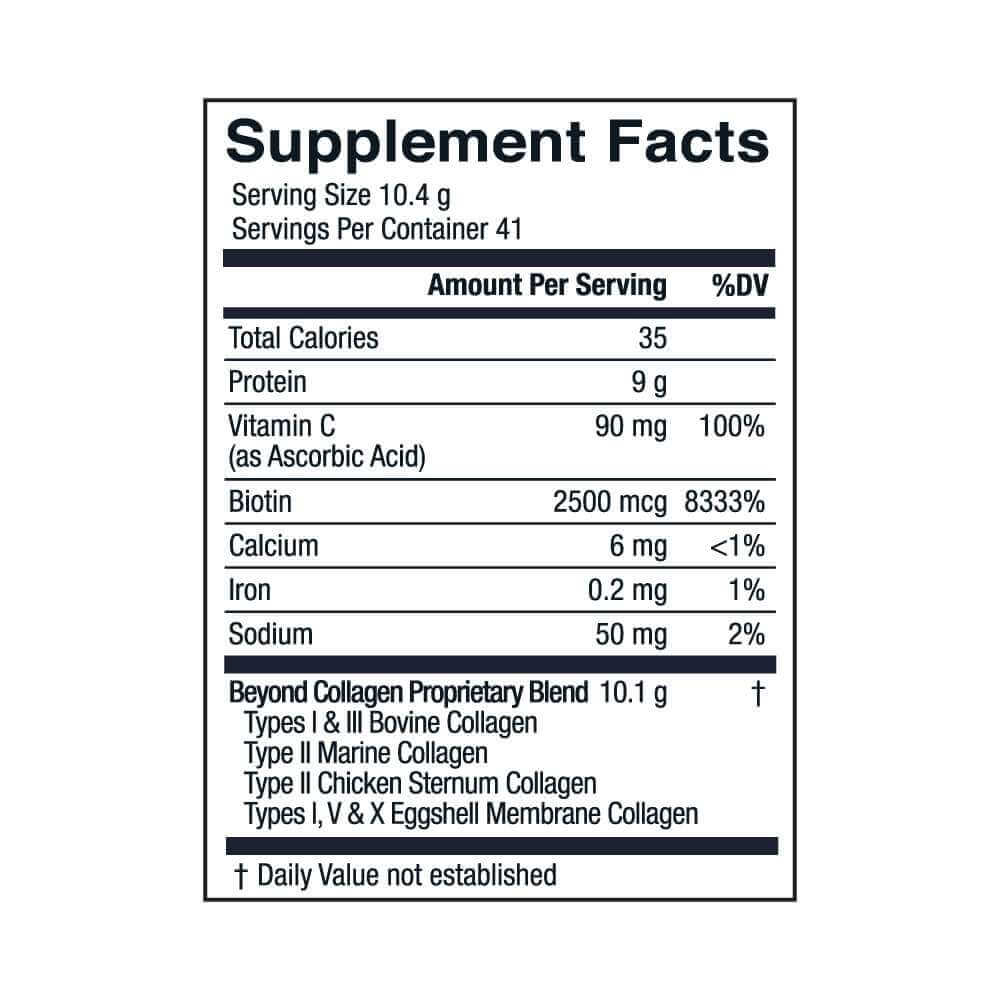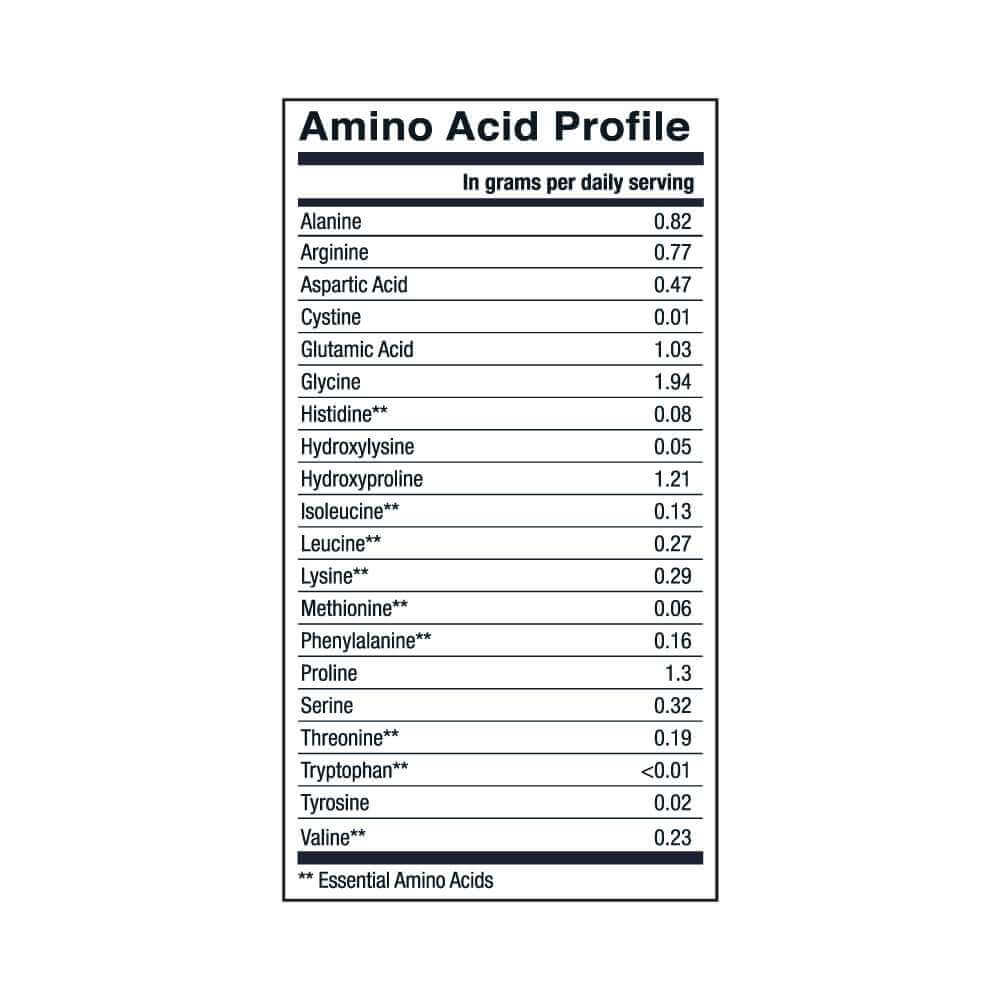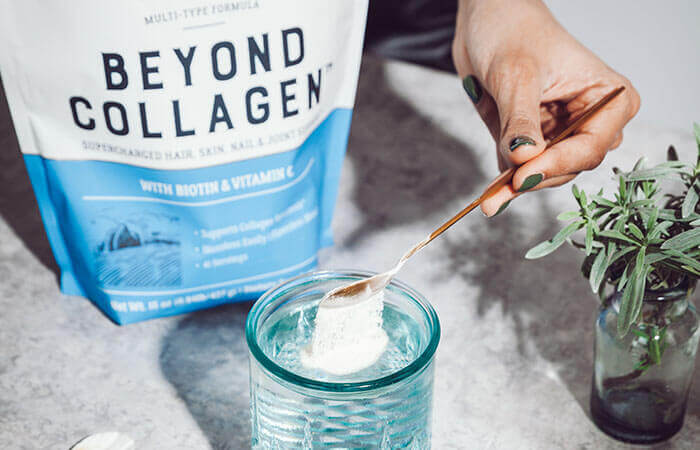 Science & Creation
There's never been a more next-level collagen supplement than Beyond Collagen®.* With 5 different types of collagen, 20 amino acids, vitamin C, and the power of biotin, Beyond Collagen® is your secret ingredient for bringing out the natural strength and radiance in your hair, skin, and nails.*

The collagen types used are from all-natural sources (bovine, marine, and avian) to help improve your health at a cellular level and beyond.*
how to take & transcend
Take 10.4 grams once daily with 8 fl oz of water or your favorite beverage.
Manufactured in the USA

Our line of natural products, manufactured in the USA with domestic and imported ingredients, employs stringent quality control standards that exceed expectations set by cGMP (Current Good Manufacturing Practices).

3rd Party Tested

We double down on our commitment to truth in labeling, ingredient safety, and product potency with independent, 3rd party testing, giving you peace of mind that what's on the label is also what's inside the bottle.
My mind is sharp, my body healthy, my spirit at ease.
---
We promise to remain curious in creating traditionally sourced, clinically proven offerings to balance your mind, body and spirit in the modern world. Whether we're concocting a vitamin, probiotic, or protein powder, we are focused on creating natural products that have the greatest potential to revolutionize your wellbeing.
why they adore it
I love that this new collagen has biotin and vitamin C already built in!! My hair and nails are growing.
This collagen powder mixed in very well with coffee and I can't taste it all. I really like that it has 5 types of collagen and this powder is so easy to use. My skin looks very youthful again. However, it takes a long time to see results so you have to be patient and consistent using it.
Write a Review
In the interest of transparency, we never use incentives to influence these reviews.
I was really looking forward to using this product! Was previously using the Thrive Market brand but wanted something with more in it. However, this product is not "favorless" as is states on the package and in the description. Maybe I just got a bad batch, but it tastes like there's a cow in my coffee. I also purchased the collagen peptides and find it to be much better so I'm using that but am most disappointment in this beyond collagen product.
This is truly the best collagen on the market. It makes my skin look great and doesn't upset my stomach. Thank you!
I like that it totally dissolves in my coffee in the morning, I like it has a good flavor very mild,
Just started using.. I use another type of same brand. this one just didn't dissolve as well as the other.