365 Day, 100% Money-Back Guarantee
@Byrdie has named #LiveWellLabs Collagen Peptides "Top 13 Best Collagen Powders"
@USWeekly has named #LiveWellLabs MagWell "Top 5 Zinc Supplements That Have Amazon Reviewers Feeling Their Best"
@FabFitFun has named #LiveWellLabs Collagen Peptides "The Best Overall Collagen Peptides Supplement for Hair, Skin, & Nails."
@Observer has named #LiveWellLabs Beyond Greens "The Best Superfood Powders for Your Daily Dose of Greens"
@Discover has named #LiveWellLabs OmegaWell "Top 10 Best Fish Oil Supplements"

@MedicalNewsToday has named #LiveWellLabs OmegaWell "The Best Omega-3 Supplement"
@GlobeNewswire has named #LiveWellLabs Collagen Peptides "One of the Best Collagen Supplements of 2021"
How it Works
THE PERFECT MORNING BREW DOES NOT EXI—

Beyond Brew is the deliciously balanced dose of wellness your body and brain crave. Wake and brew with our potent blend of 6 super-powered, organic mushrooms (including Lion's Mane and Reishi), plus powerful pre and probiotics for digestive support. We designed this formula to support sharp cognition, gut & immune health, and overall feel-goodness.

Enjoy Beyond Brew as your new morning ritual itself, or if you're not ready to kick the habit, simply add it to your coffee, smoothies or bowls to take things to the next level.

Either way, don't just settle for coffee, go beyond.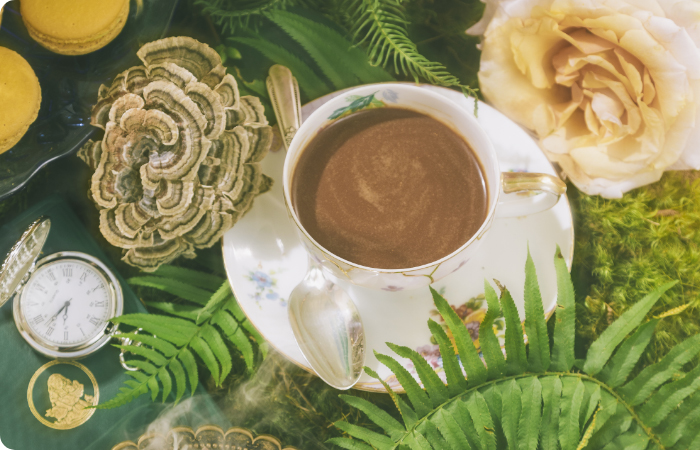 Key Ingredients
Organic Beyond Brew Mushroom Blend

We've masterfully blended some of the most potent mushrooms available for well-being to create a powerful 6-in-1 mushroom blend. Featuring Lion's Mane, Reishi, Chaga,

Cordyceps sinensis

,

Cordyceps militaris

, and Turkey Tail mushrooms, this comprehensive formula promotes

organic energy holistically

.

Organic Cacao

This tasty addition provides a great source of naturally-occurring flavonols. Organic cacao is not just for flavor anymore!

Organic Tahl Gum (Acacia seyal)

Hailing from the mystical acacia plant, tahl gum helps promote healthy digestion while elevating your ever-important microbiome.

Bacillus coagulans

The answer for a more harmonious gut microbiome. This heat-tolerant probiotic strain supports both your digestive and immune health.
Shop NowView Full Nutrition Label >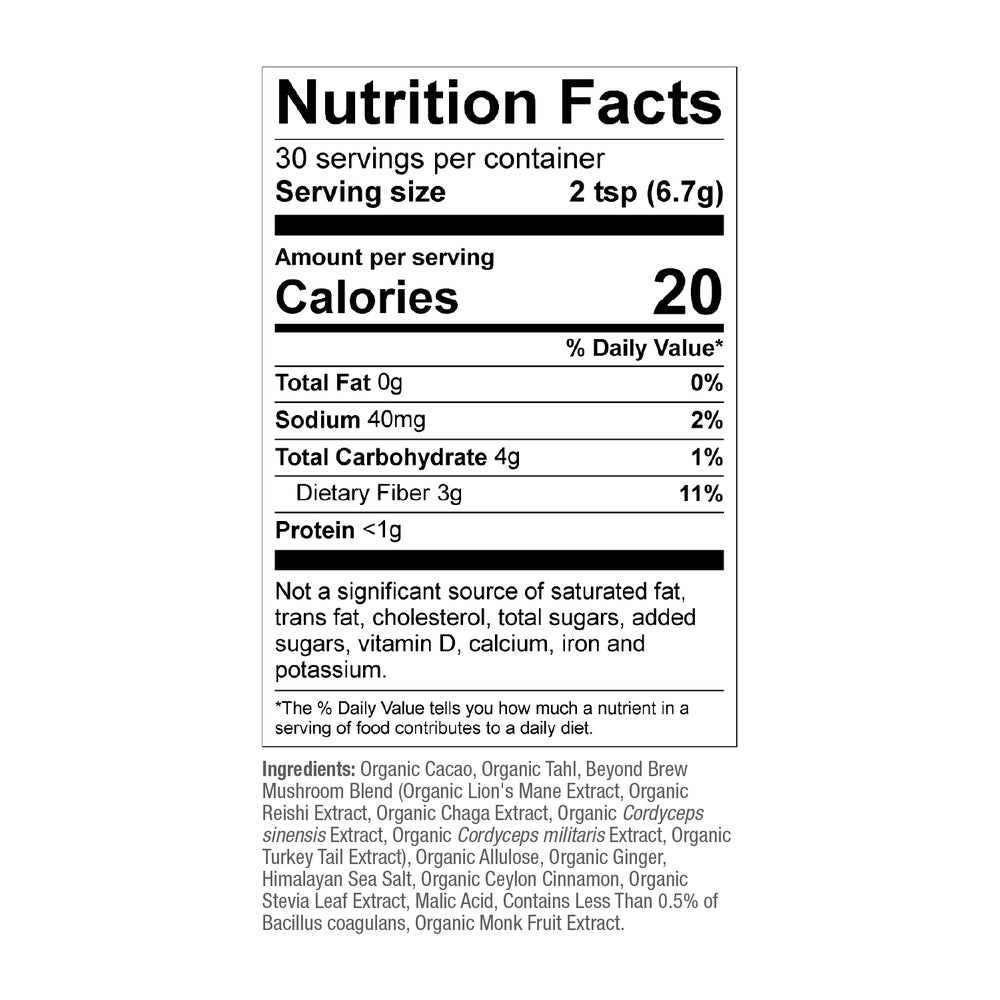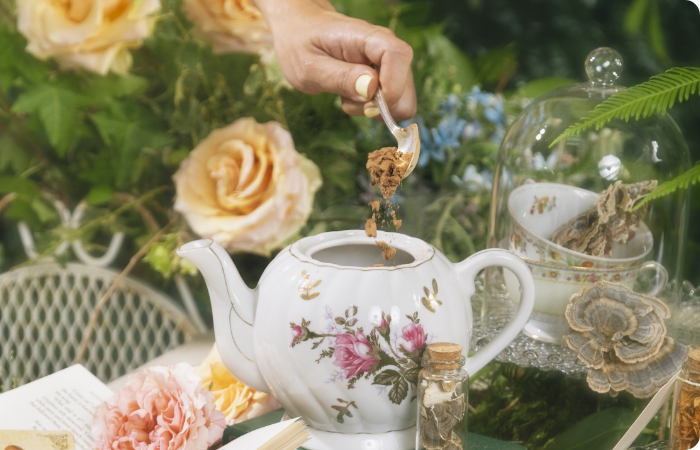 Science & Creation
With only 1/10 the caffeine of a cup of coffee, you can enjoy sustained energy without the crash.

For shroom it may concern: Functional mushrooms Cordyceps, Lion's Mane and Chaga induce mental clarity and energy, while the gentle vibes of Reishi help calm the mind and leave the body relaxed. These, along with Turkey tail, support digestive and immune health with their potent nutritional qualities.

Using only organic mushrooms means that you receive the highest quality ingredients, as they do not absorb any fungicides or other contaminants during growth.

With a heat-tolerant probiotic strain (Bacillus coagulans) and prebiotic fibers that nurture the gut microbiome, Beyond Brew's pre/pro combo supplies the perfect daily addition to help maintain digestive health. This, in turn, creates the perfect storm to provide immune, mental, and whole-body benefits as well. Here's to a gut cup of coffee.
how to take & transcend
Mix 2 tsp with 8-12 fl oz of your favorite hot or cold beverage once (1x) daily. For best results, add 2 tsp of powder while stirring beverage to prevent clumping.
Manufactured in the USA

Our line of consciously-crafted products, manufactured in the USA with domestic and imported ingredients, employs stringent quality control standards that meet or exceed expectations set by cGMP (Current Good Manufacturing Practices).

3rd Party Tested

We double down on our commitment to truth in labeling, ingredient safety, and product potency with independent, 3rd party testing, giving you peace of mind that what's on the label is also what's inside the bottle.
why they adore it
In the interest of transparency, we never use incentives to influence these reviews.