365 Day, 100% Money-Back Guarantee
@Byrdie has named #LiveWellLabs Collagen Peptides "Top 13 Best Collagen Powders"
@USWeekly has named #LiveWellLabs MagWell "Top 5 Zinc Supplements That Have Amazon Reviewers Feeling Their Best"
@FabFitFun has named #LiveWellLabs Collagen Peptides "The Best Overall Collagen Peptides Supplement for Hair, Skin, & Nails."
@Observer has named #LiveWellLabs Beyond Greens "The Best Superfood Powders for Your Daily Dose of Greens"
@FabFitFun has named #LiveWellLabs Beyond Greens "The Perfect Health Supplement to Boost Your Immune System"
@Discover has named #LiveWellLabs OmegaWell "Top 10 Best Fish Oil Supplements"
@MedicalNewsToday has named #LiveWellLabs OmegaWell "The Best Omega-3 Supplement"
@GlobeNewswire has named #LiveWellLabs Collagen Peptides "One of the Best Collagen Supplements of 2021"
How it Works
Live Conscious Vegan B12 offers a maximum strength, highly bioavailable 5000 mcg daily dose, designed to replenish your body, giving you more clarity, energy, and focus.*

Live Conscious' sublingual formula has a fresh citrus flavor, superior absorption, and bioavailability.*

This means you get a potent nutrient clinically proven to promote energy metabolism and enhance cellular reproduction, which is vital to overall health.*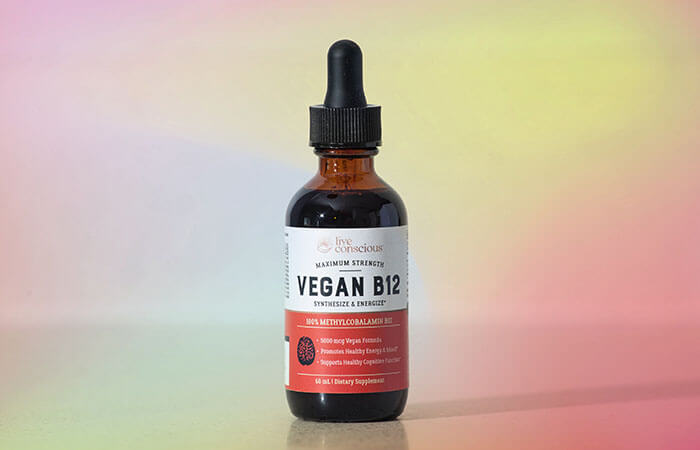 Key Ingredients
100% Methylcobalamin B12

Methylcobalamin is the most bioavailable and natural coenzyme form of B12.*
Shop NowView Full Nutrition Label >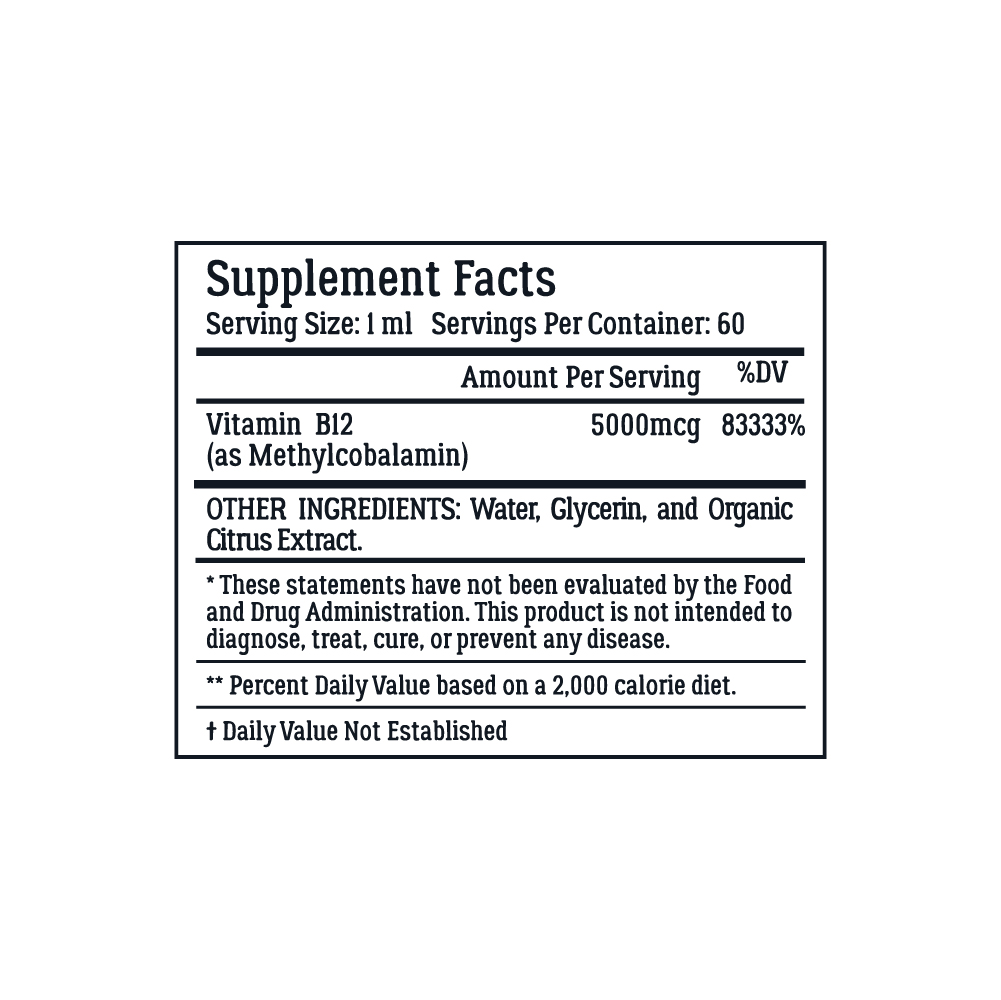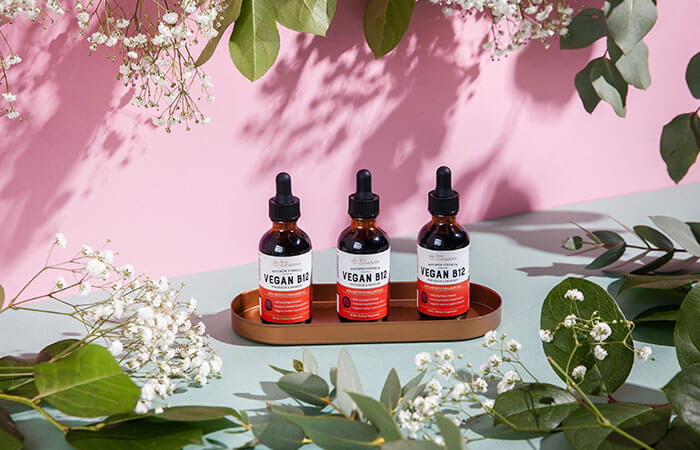 Science & Creation

Vitamin B12 promotes crucial cellular production by supporting the adrenal glands and red blood cell formation as well as converting carbohydrates to glucose.*

Why is glucose so important?

It's the fuel your body uses for energy, improving concentration, mental clarity, and cognitive function.*
how to take & transcend
Take 1 mL sublingual (under the tongue) daily.
Manufactured in the USA

Our line of natural products, manufactured in the USA with domestic and imported ingredients, employs stringent quality control standards that exceed expectations set by cGMP (Current Good Manufacturing Practices).

3rd Party Tested

We double down on our commitment to truth in labeling, ingredient safety, and product potency with independent, 3rd party testing, giving you peace of mind that what's on the label is also what's inside the bottle.
My mind is sharp, my body healthy, my spirit at ease.
---
We promise to remain curious in creating traditionally sourced, clinically proven offerings to balance your mind, body and spirit in the modern world. Whether we're concocting a vitamin, probiotic, or protein powder, we are focused on creating natural products that have the greatest potential to revolutionize your wellbeing.
why they adore it
Live Conscious Vegan Vitamin B12 is an excellent product. I'm on my 3rd bottle and I definitely feel positive results. I highly recommend it!
These drops are actually delicious and since I have been using natural products I feel more energized.
This product was definitely worth the price. I noticed a significant improvement in my energy levels. I will definitely continue to take it.
Write a Review
In the interest of transparency, we never use incentives to influence these reviews.
Received the item a lot sooner than I expected. Was looking for b12 with methylcobalamin that had good ratings & not too expensive.
It doesn't absorb under the Tongue so once you let it sit you wind up still swallowing the majority
The flavor is pleasant. So, given my ignorance I had to find out for sure. On the info I could find it's ok for non vegans as well.
Researched and found this to be one of the top contenders.