365 Day, 100% Money-Back Guarantee
@Byrdie has named #LiveWellLabs Collagen Peptides "Top 13 Best Collagen Powders"
@USWeekly has named #LiveWellLabs MagWell "Top 5 Zinc Supplements That Have Amazon Reviewers Feeling Their Best"
@FabFitFun has named #LiveWellLabs Collagen Peptides "The Best Overall Collagen Peptides Supplement for Hair, Skin, & Nails."
@Observer has named #LiveWellLabs Beyond Greens "The Best Superfood Powders for Your Daily Dose of Greens"
@FabFitFun has named #LiveWellLabs Beyond Greens "The Perfect Health Supplement to Boost Your Immune System"
@Discover has named #LiveWellLabs OmegaWell "Top 10 Best Fish Oil Supplements"
@MedicalNewsToday has named #LiveWellLabs OmegaWell "The Best Omega-3 Supplement"
@GlobeNewswire has named #LiveWellLabs Collagen Peptides "One of the Best Collagen Supplements of 2021"
How it Works
Pro-45™ is a broad-spectrum probiotic formula featuring 45 billion guaranteed live cultures and 11 clinically studied probiotic strains (per capsule) that assist with acid and bile resistance and their ability to colonize within the gut.*

Each vegetarian, delayed-release capsule contains NutraFlora® prebiotic fiber to help boost the vitality and growth of good gut flora, so you can live a balanced, awakened life; like a pro.*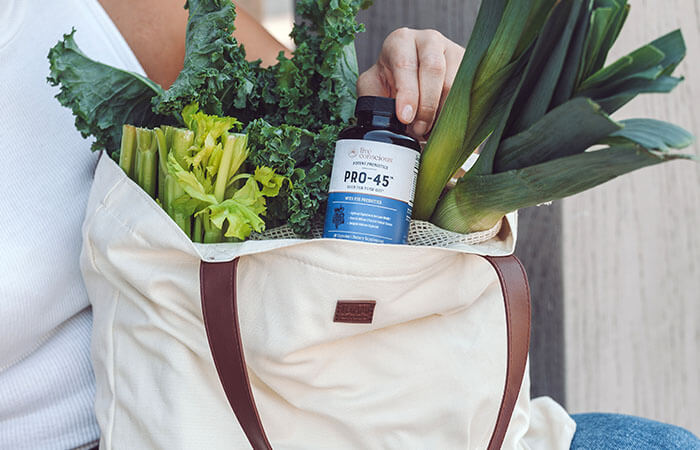 Key Ingredients
Probiotics

Pro-45 contains a powerful mix of 45 billion live cells from strains selected specifically for their benefits for the digestive system and overall health.*

Nutraflora®

A specially made prebiotic fiber, Nutraflora® helps nourish the probiotics in Pro-45 and beneficial strains already present in the gut.*
Shop NowView Full Nutrition Label >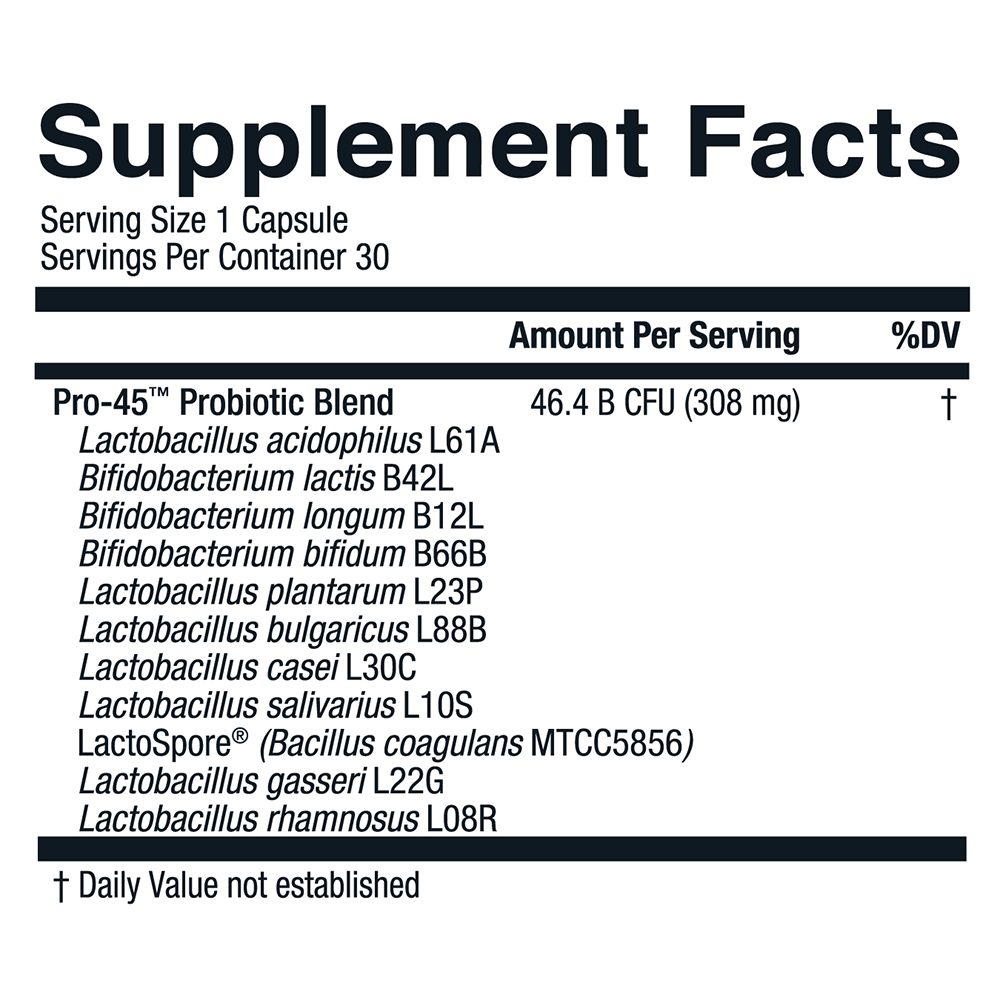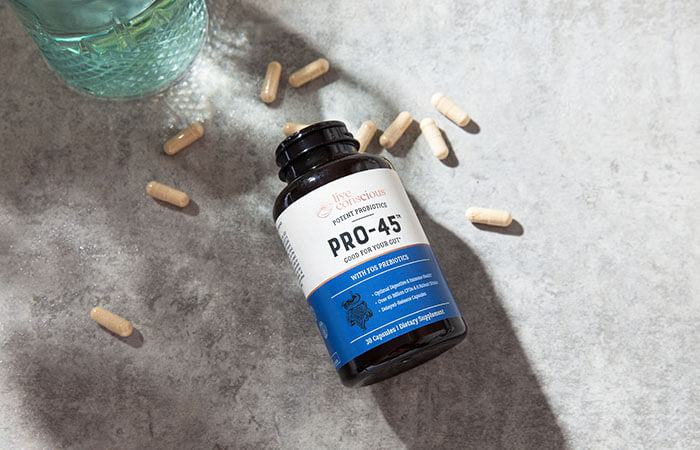 Science & Creation
Pro-45™ is the ultimate broad-spectrum probiotic formula, made to provide 45 billion live cells per serving composed of 11 clinically studied, beneficial strains.*

Probiotic microorganisms have been scientifically shown to play a crucial role in maintaining good health, as they play an essential role in preserving and protecting the health of the digestive and immune systems.*

In fact, all organs and systems rely on the health of the digestive tract, marking proper digestion as an essential function for the body to absorb and utilize the nutrients it needs.*

From our mood and mental health, to our physical endurance and strength, and even our body's ability to heal itself, probiotics are an essential part of a happy and strong gut microbiome.*
how to take & transcend
Take 1 capsule daily with a meal and 8 oz of water.
Manufactured in the USA

Our line of natural products, manufactured in the USA with domestic and imported ingredients, employs stringent quality control standards that exceed expectations set by cGMP (Current Good Manufacturing Practices).

3rd Party Tested

We double down on our commitment to truth in labeling, ingredient safety, and product potency with independent, 3rd party testing, giving you peace of mind that what's on the label is also what's inside the bottle.
My mind is sharp, my body healthy, my spirit at ease.
---
We promise to remain curious in creating traditionally sourced, clinically proven offerings to balance your mind, body and spirit in the modern world. Whether we're concocting a vitamin, probiotic, or protein powder, we are focused on creating natural products that have the greatest potential to revolutionize your wellbeing.
why they adore it
True to their word! Never felt better after taking these. I have signed up to subscribe monthly, so I know I won't run out.
This is the best probiotic I've tried. Provides what I need to digest food, etc. Great product!
I have been taking this product for over 2 months now and I am really pleased with how my body feels.
Write a Review
In the interest of transparency, we never use incentives to influence these reviews.
This is a quality product. It has all the essentials you need in an effective probiotic. Have used others but this is the best I have used.
I have tried more probiotics than I can count and I've never had one that has worked as well as this one!!
From the research I've done this is a very good probiotic. It came earlier than expected which is great!
I have felt a lot better since I started taking this and will continue to take it. Just bought my second bottle.
These helped restore his intestinal flora. He only took 1 month of them. I think we might order again to continue further.