365 Day, 100% Money-Back Guarantee
@Byrdie has named #LiveWellLabs Collagen Peptides "Top 13 Best Collagen Powders"
@USWeekly has named #LiveWellLabs MagWell "Top 5 Zinc Supplements That Have Amazon Reviewers Feeling Their Best"
@FabFitFun has named #LiveWellLabs Collagen Peptides "The Best Overall Collagen Peptides Supplement for Hair, Skin, & Nails."
@Observer has named #LiveWellLabs Beyond Greens "The Best Superfood Powders for Your Daily Dose of Greens"
@Discover has named #LiveWellLabs OmegaWell "Top 10 Best Fish Oil Supplements"

@MedicalNewsToday has named #LiveWellLabs OmegaWell "The Best Omega-3 Supplement"
@GlobeNewswire has named #LiveWellLabs Collagen Peptides "One of the Best Collagen Supplements of 2021"
How it Works
DigestWell® contains 10 broad spectrum, plant-based digestive enzymes to help your body absorb key nutrients more effectively and support proper digestion.*

The addition of the clinically studied probiotic DE111® and powerful botanicals can bring quick aid to the uncomfortable symptoms related to indigestion.*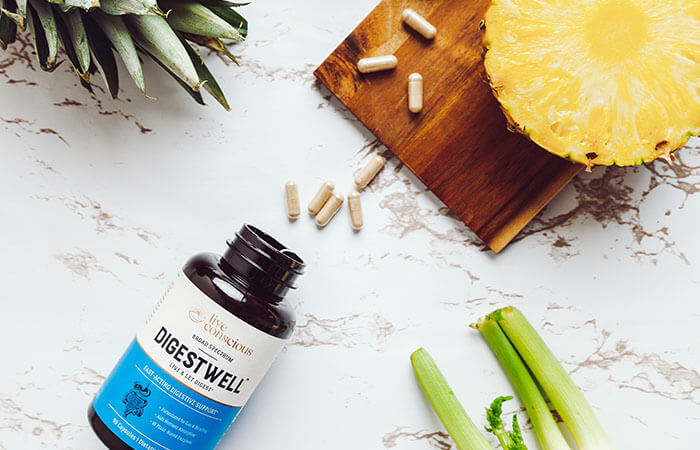 Key Ingredients
Pineapple Enzyme

A natural source of the potent digestive enzyme bromelain.*

Ginger Extract

A classic for soothing the stomach, ginger has numerous digestive benefits.*

Papaya Enzymes

A natural source of papain, amylase & protease enzymes, which can help with digestive discomfort and maintaining digestive health.*
Shop NowView Full Nutrition Label >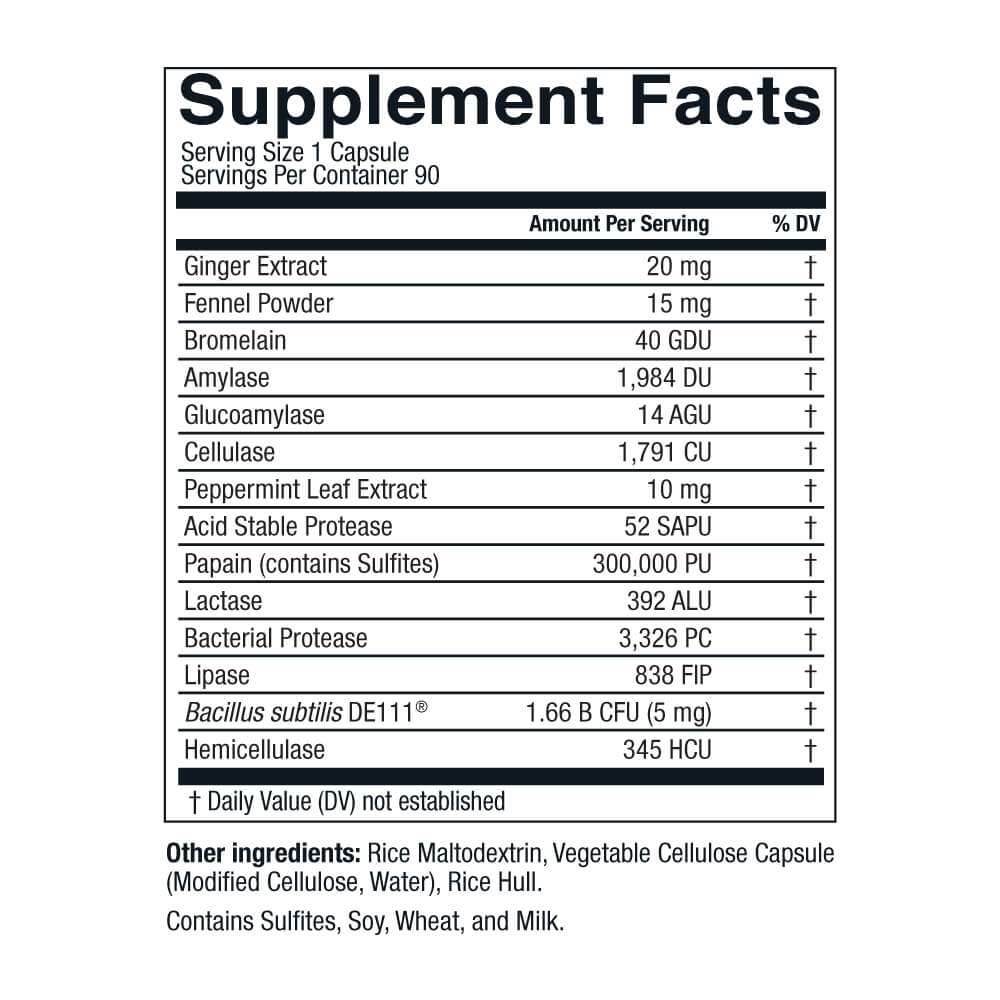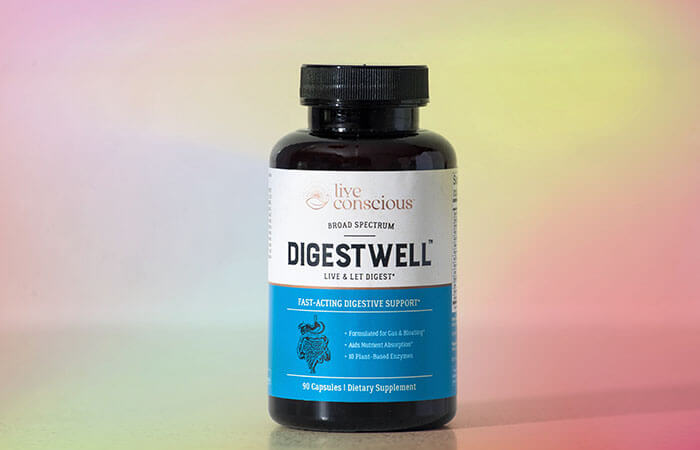 science & creation
Our digestive system employs roughly 22 different digestive enzymes, at any given time, to help us break down our food into important nutrients.*

Key plant-based enzymes, such as bromelain from pineapple and papain from papaya, are integral to aiding digestion.*

That's why DigestWell® combines all of these and more into one broad spectrum enzyme formula.

These targeted enzymes are designed to help you digest fats, proteins, carbs, and sugars, reduce common digestive discomfort, and promote long-term gut health.*
how to take & transcend
Take one (1) capsule 20 minutes before a meal.
Manufactured in the USA

Our line of consciously-crafted products, manufactured in the USA with domestic and imported ingredients, employs stringent quality control standards that meet or exceed expectations set by cGMP (Current Good Manufacturing Practices).

3rd Party Tested

We double down on our commitment to truth in labeling, ingredient safety, and product potency with independent, 3rd party testing, giving you peace of mind that what's on the label is also what's inside the bottle.
why they adore it
This stuff is great! I have a sensitive stomach and these have helped tremendously. Highly recommend.
I got these to ease some stomach discomfort I was feeling at night, works very well!
I found this to be an excellent product! Good results right away, with even better results with continued use.
In the interest of transparency, we never use incentives to influence these reviews.