365 Day, Money-Back Guarantee
---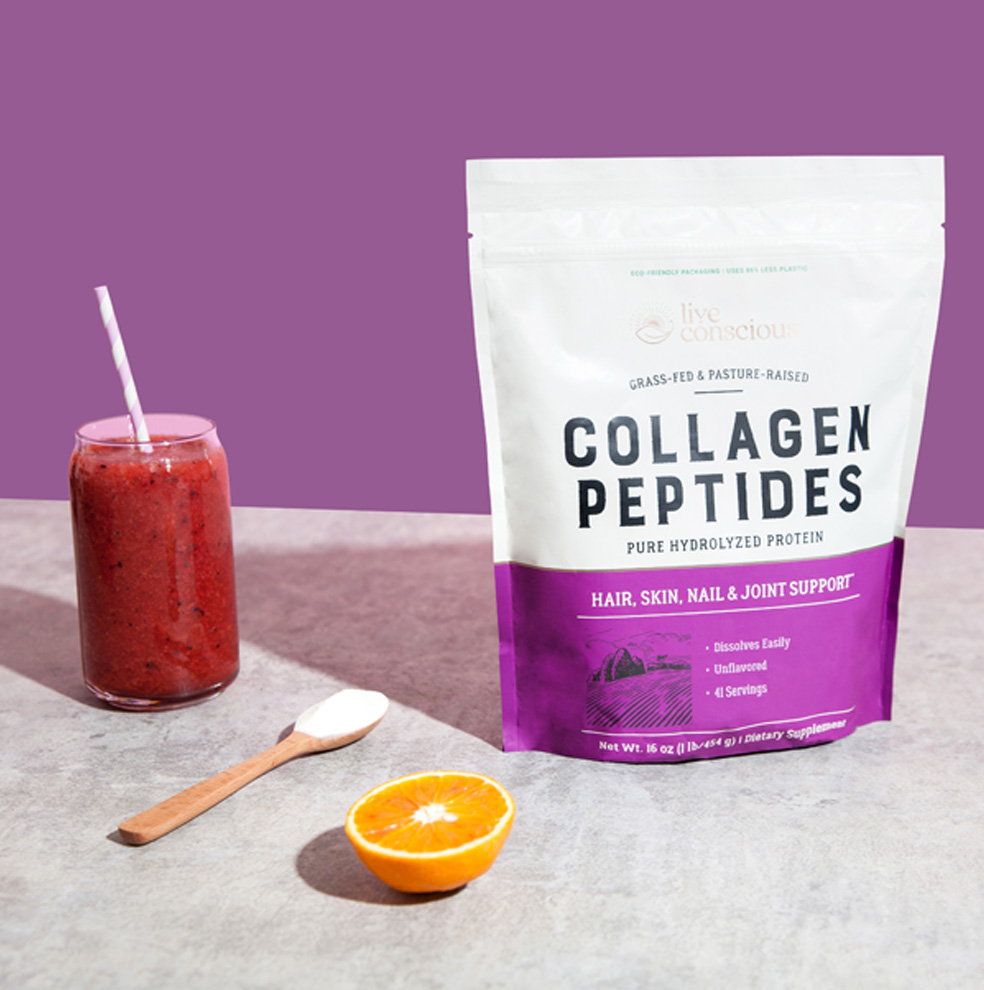 the power of how (it works)
Live Conscious™ hydrolyzed types I & III Collagen Peptides are sourced from grass-fed, pasture-raised, Grade A bovine, and certified hormone-free and 100% non-GMO.
Containing 19 amino acids, Collagen Peptides are enzymatically formulated for enhanced bioavailability and absorption to support bone and joint health, strengthen hair, skin, and nails, and benefit the body's overall cellular structure, so you can live, look and feel good, inside and out.*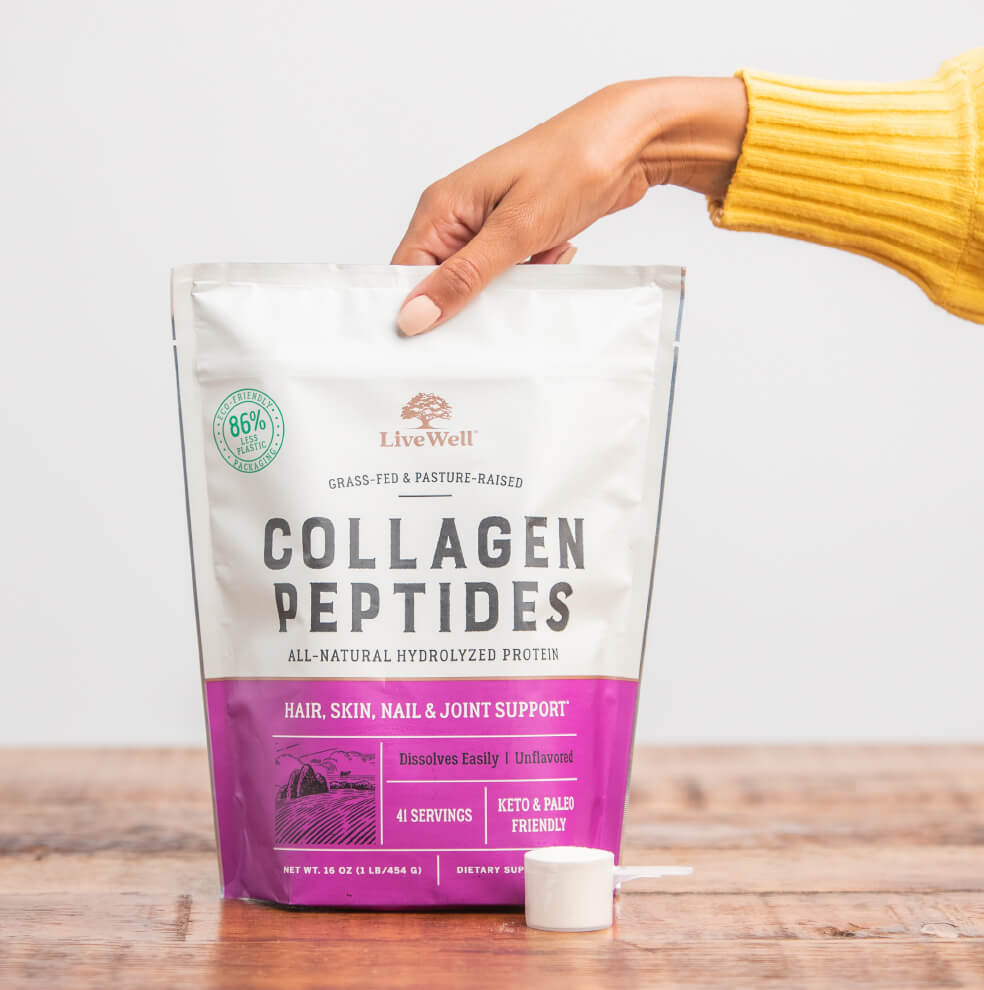 a look inside
(key ingredients)
Hydrolyzed Types I & III Collagen Peptides

We ensure our hydrolyzed collagen peptides are sourced only from grass-fed, pasture-raised, Grade A bovine, and certified hormone-free and 100% non-GMO because we know grass-fed cows are happier and healthier. Free of unnecessary fillers and additives, our collagen peptides are the best way to promote skin elasticity which plays a key role in common, age-related changes in appearance.*
Shop Now >View Full Nutrition Label >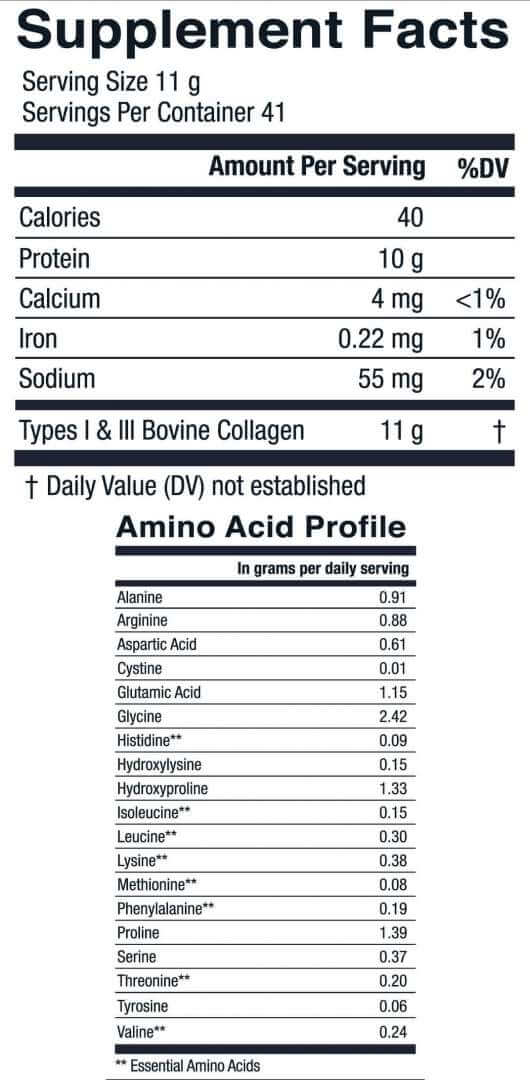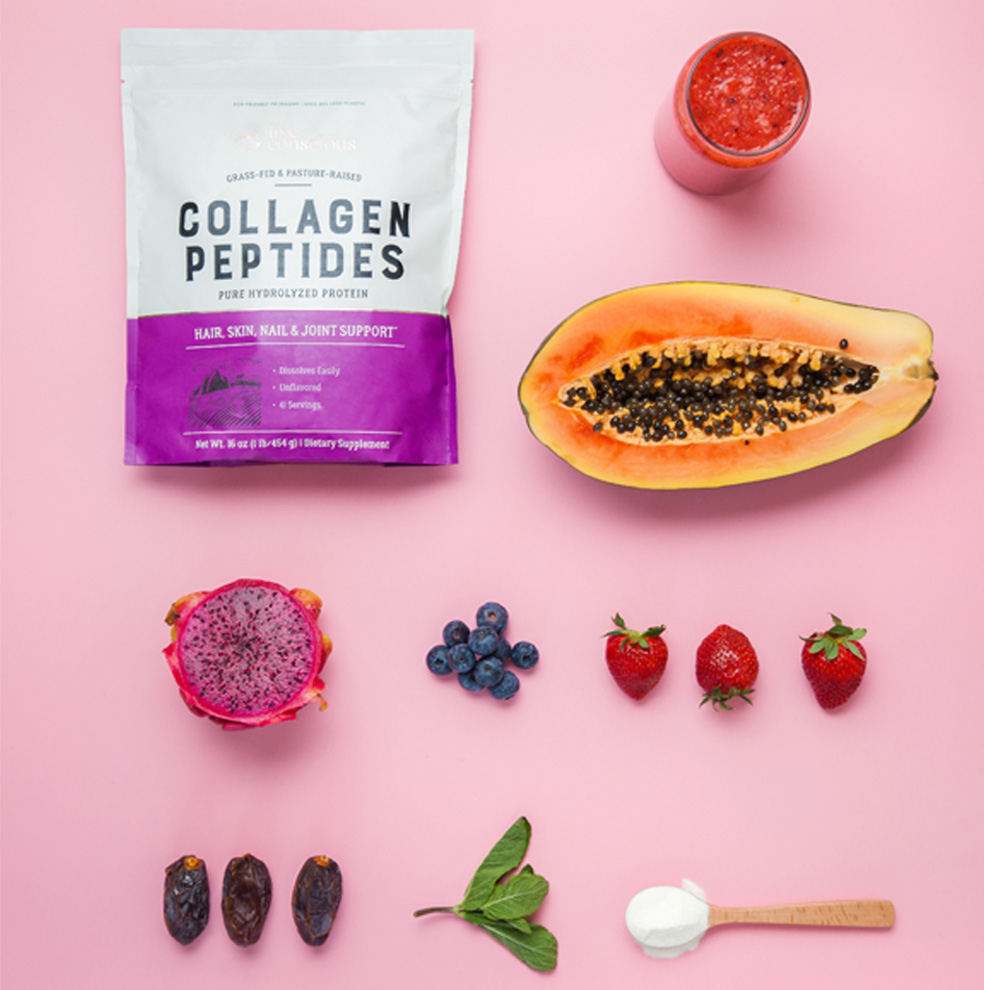 science & creation
Collagen is the most abundant, naturally occurring protein found in the human body and is the building block for your cells, tissues, and organs, making it essential for healthy bones, joints, skin, hair, and nails. As we age, we naturally lose collagen, which can lead to common signs of aging such as stiff joints, sagging skin, and wrinkles. You can help keep your collagen levels in prime condition by eating a well-balanced, healthy diet and taking the recommended dose of collagen peptide supplements.*

Increasing your body's reserves with hydrolyzed collagen may promote joint health and can help maintain youthful-looking skin, thick, healthy hair, and strong nails.*

The benefit of hydrolyzed collagen is that it has been broken down into shorter chains, called peptides. The resulting powder is unflavored, and its low molecular weight means you can easily stir it into anything you'd like, and it blends right in.*
how to take & transcend
As a dietary supplement, mix 11 g with 8 - 12 fl oz of your favorite beverage.
Manufactured in the USA

Our line of natural products, manufactured in the USA with domestic and imported ingredients, employs stringent quality control standards that exceed expectations set by cGMP (Current Good Manufacturing Practices).

3rd Party Tested

We double down on our commitment to truth in labeling, ingredient safety, and product potency with independent, 3rd party testing, giving you peace of mind that what's on the label is also what's inside the bottle.
mantra & promise
my mind is sharp, my body healthy, my spirit at ease.
---
We promise to remain curious in creating traditionally sourced, clinically proven offerings to balance your mind, body and spirit in the modern world. Whether we're concocting a vitamin, probiotic, or protein powder, we are focused on creating natural products that have the greatest potential to revolutionize your wellbeing.
Why They Adore It
I have recommended this to many people. I keep 6 bags at all times. Love love it.
I have been using Live Conscious Collagen Peptides for about 6 months and notice a remarkable difference in my skin and nails.
Started taking after my hair began getting very thin, my hair has become nice & full yet staying soft to the touch.
Write a Review
In the interest of transparency, we never use incentives to influence these reviews.
Believe the hype!!
all of my coworkers have seen amazing results with this product. Their hair, nails and skin all look amazing within only a few weeks! Can't wait to see my results
Awesome
We make a mid-day meal replacement drink of Collagen Peptides mixed with veggie/fruit greens. The Collagen Peptides are perfect for this drink; great flavor and quite easy to mix. The results in amazing in energy, satisfying, great hair, nails and skin, plus low calorie for those counting calories. I highly recommend.
This is the most amazing product ever!!!
I absolutely love this product. I met a friend for drinks and she looked every bit 10 years younger. She told me about this product and how she thought she was imagining her skin getting tighter and not having the muscle and joint pains any longer. That same night...I researched the product. My biggest issue was not wanting to put chemicals in my body. I am very health conscious and I wanted to take a natural product. I found this with the Live Well product. I am very pleased. I am about to order my 3rd canister of this stuff.
So far, So good!
After doing some research online for the best collagen peptides, I chose this one. I have been taking this for a week and a half now. I have already noticed my skin is smoother and softer, my hair is not shedding near as much! I wasn't expecting this, but my adult acne has even cleared up better. I'm very interested to see how the rest of this month goes. So far, I'm happy with my purchase.
No gross taste and dissolves great
I like that this dissolves easily and has no taste. It's easy to incorporate in my morning shake. It's low in calories and provides great benefits for your body.