365 Day, 100% Money-Back Guarantee
@Byrdie has named #LiveWellLabs Collagen Peptides "Top 13 Best Collagen Powders"
@USWeekly has named #LiveWellLabs MagWell "Top 5 Zinc Supplements That Have Amazon Reviewers Feeling Their Best"
@FabFitFun has named #LiveWellLabs Collagen Peptides "The Best Overall Collagen Peptides Supplement for Hair, Skin, & Nails."
@Observer has named #LiveWellLabs Beyond Greens "The Best Superfood Powders for Your Daily Dose of Greens"
@Discover has named #LiveWellLabs OmegaWell "Top 10 Best Fish Oil Supplements"

@MedicalNewsToday has named #LiveWellLabs OmegaWell "The Best Omega-3 Supplement"
@GlobeNewswire has named #LiveWellLabs Collagen Peptides "One of the Best Collagen Supplements of 2021"
How it Works
Conscious meets clinical in this potent green superfood blend that transcends the rest.*
Our mystic mix of echinacea, rhodiola, milk thistle, probiotics, and four varieties of powerful mushrooms (including Lion's Mane and Reishi) can help support:
• A healthy immune system*
• Harmonious gut health*
• Whole-body detoxification*
• Clean energy*

From mushrooms to the microbiome, organic plants to probiotics and beyond, the Live Conscious® difference is undeniable.*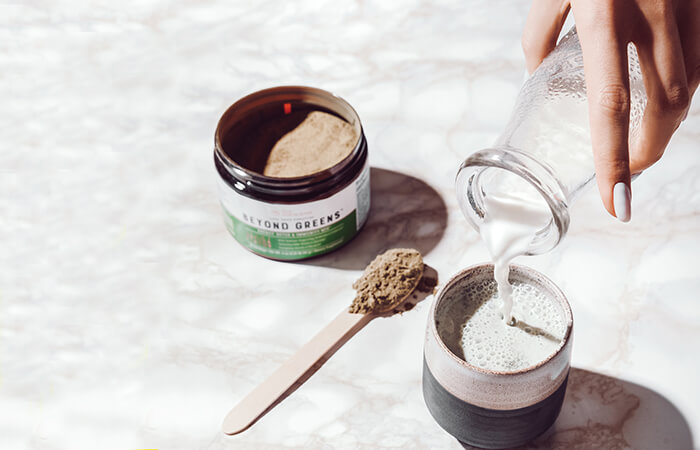 Key Ingredients
Milk Thistle

A powerful ingredient in liver health, which in turn can provide beneficial detoxifying effects.*

Rhodiola rosea

This herb can help you relax, improve mood, and reduce fatigue.* It has even been shown that it may improve exercise performance.*

Echinacea

Echinacea is a potent ingredient in helping your immune system defend your body.*

Matcha

Matcha is rich in antioxidants, can help protect the liver, can enhance cognitive function, and helps Beyond Greens™ taste great.*

Chlorella

This antioxidant-rich algae is a complete protein source, which means it has every single essential amino acid.*

Lactospore (Bacillus coagulans)

A potent probiotic using the same bacterial strain found in Japanese natto. It's great for both digestive and immune health.*

FOS & XOS (Fructo- and xylo-oligosaccharides)

These two important ingredients act as prebiotics, which can boost the benefits of the probiotics in Beyond Greens™ for your digestive system.*

Acacia Gum

Acacia can help your intestinal lining grow stronger for better digestion, and may also help improve the microbiome.*

Ceylon Cinnamon

An incredible source of antioxidants.*
Shop NowView Full Nutrition Label >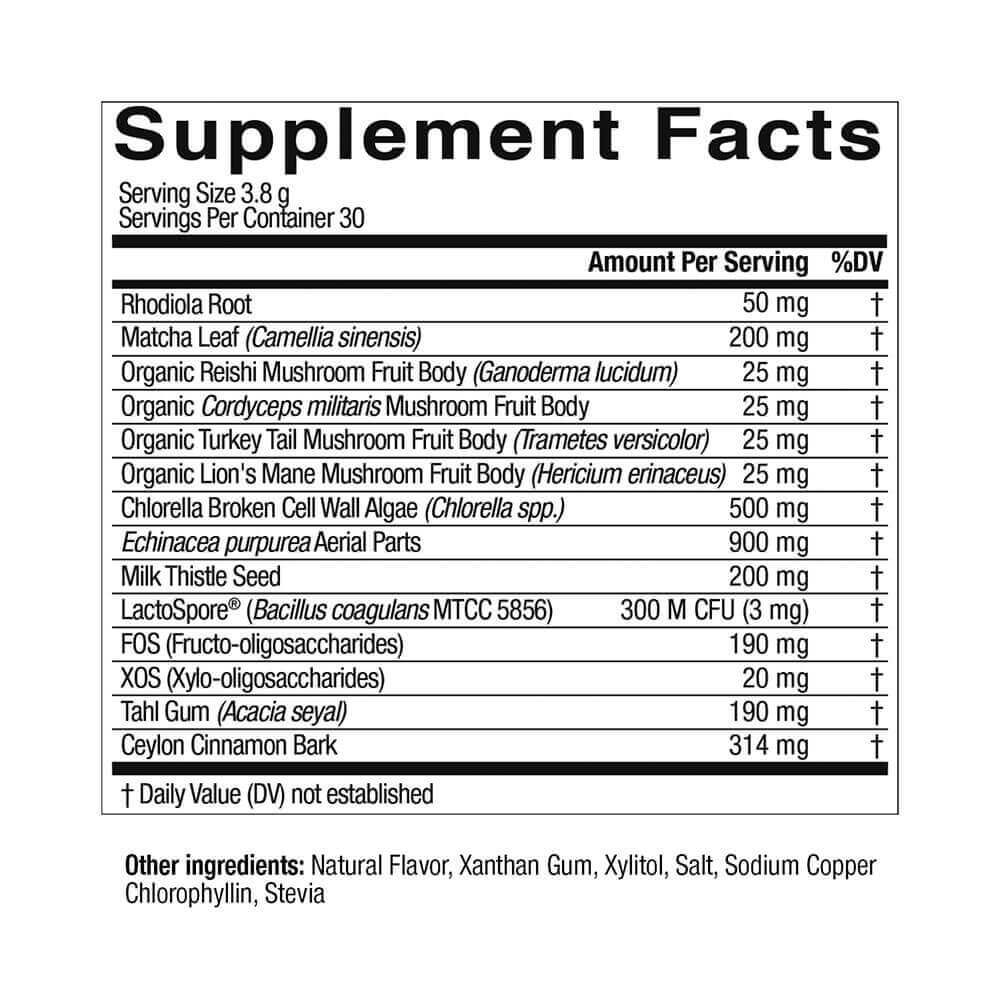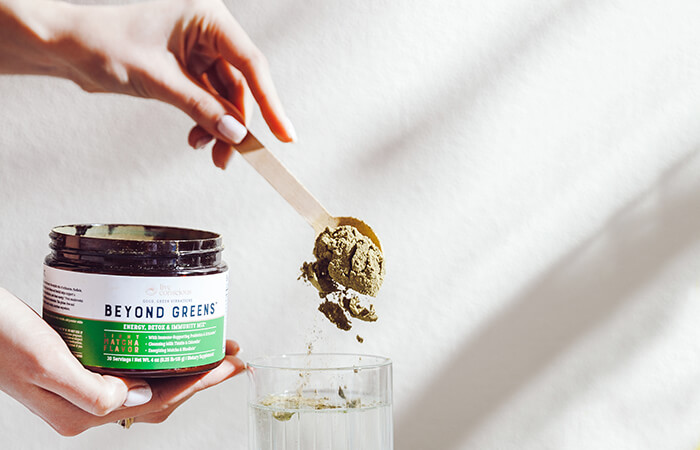 Science & Creation
Just as we are linked to the environment and world around us, each aspect of your body is interconnected with one another.

Better health of your gut microbiome, for example, can support immune health, energy levels and mood.*

That's why Beyond Greens™ is essentially the multivitamin reimagined. Brighten your day with an awe-inspiring greens supplement that focuses on improving multiple areas of your health to elicit positive, whole-body change.*

A small amount of this potent, concentrated green powder features ingredients in clinical dosages, unmatched by traditional green drinks.*
how to take & transcend
Stir 3.8 g (about 1 scoop) with 8 - 12 fl oz of your favorite drink once daily.
Manufactured in the USA

Our line of consciously-crafted products, manufactured in the USA with domestic and imported ingredients, employs stringent quality control standards that meet or exceed expectations set by cGMP (Current Good Manufacturing Practices).

3rd Party Tested

We double down on our commitment to truth in labeling, ingredient safety, and product potency with independent, 3rd party testing, giving you peace of mind that what's on the label is also what's inside the bottle.
why they adore it
By far for my body this product has provided me with improved energy, both physically and mentally. It also has had a positive effect on my lower gut system.
The product does give you added energy. The taste is good and it mixes well. You can't beat it. I will definitely purchase again.
Great taste and easy to mix.
Skin and energy level improved a lot.
After drinking this my craving for snacks are less.
In the interest of transparency, we never use incentives to influence these reviews.